Don't Hurt The Dirt

Join us in our mission to preserve and protect priceless geologic and paleontological resources. Staying on trail during your visit will keep John Day Fossil Beds scenic and enjoyable for future generations. Most visitors don't mean to be destructive, but even unintentional damage is still damage. Using the slogan #DontHurtTheDirt, educating others on the Fossil Beds' significance can be simple and fun!

Travelers come to admire the world-class fossils and geologic formations that allow them to contemplate the distant past. The striking blue-green claystones of Blue Basin in the Sheep Rock Unit appear otherworldly. The towering Clarno Palisades and various trails provide the opportunity to see fossilized leaves and tree trunks in their original locations. In Spring, the Painted Hills Unit is dotted with wildflowers and highlighted by golden rays and deep shadows during the summer. Due to social media and rising popularity, these landmarks have become sought-after destinations. However, geologic formations are much more than their aesthetic appeal. After surviving millions of years, their newest threat may be the over 205k annual visitors coming to appreciate them.

Per the Superintendent's Compendium, by law, hiking or pedestrian traffic is restricted to the trail in the following areas:
Per the Superintendent's Compendium, by law, hiking or pedestrian traffic is restricted to designated trails, or in undeveloped portions, to areas covered in grass and shrubs:
Clarno Unit

Painted Hills Unit, except in the area between the NPS residence driveway and the road to the Painted Hills Overlook on the south side of the Wheeler County road

ALL areas are delicate and see increased visitation every year. Even in areas not specifically listed, please practice Leave No Trace and STAY ON THE TRAIL to protect these unique ecosystems. It is not just your feet, but the cumulative daily effect of yours and many others that takes a serious toll on the soil and plants.

Walking and climbing is prohibited on exposed sedimentary and volcanic rock layers. If you hike as a group in the backcountry (where permitted), remember to spread out and not walk in a single file line. This prevents the start of a social trail and will reduce impact.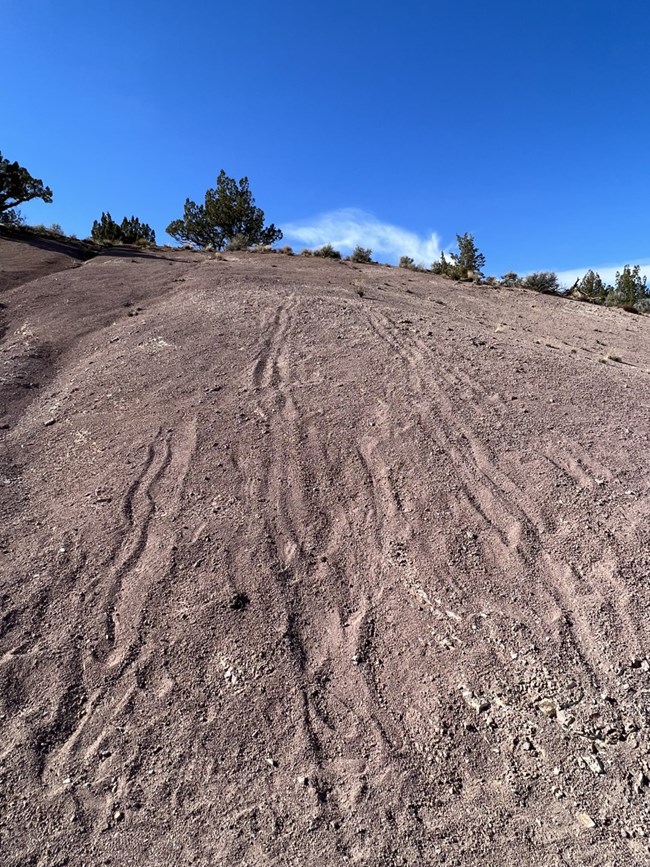 Damaging Impacts

The primary resource protected is the globally significant paleontological record entombed in sedimentary layers. Foot travel off-trail in these extremely sensitive areas can damage fossils near the surface, dislodging them from their context in the rock strata, therefore reducing their scientific value.
Footprints and social trails worn into the landscape can last for decades, due to minimal rainfall and snow. While we all might like a "Trip to Mars" for an "otherworldly" moment, or the opportunity to capture the "perfect" selfie, these popular areas cannot accommodate the desires of the many who wish to wander off the trail. The presence of people and their long-lasting footprints left behind impairs enjoyment of scenic and photographic opportunities for other visitors. These damaging social trails also lead others to follow, unintentionally spreading the damage.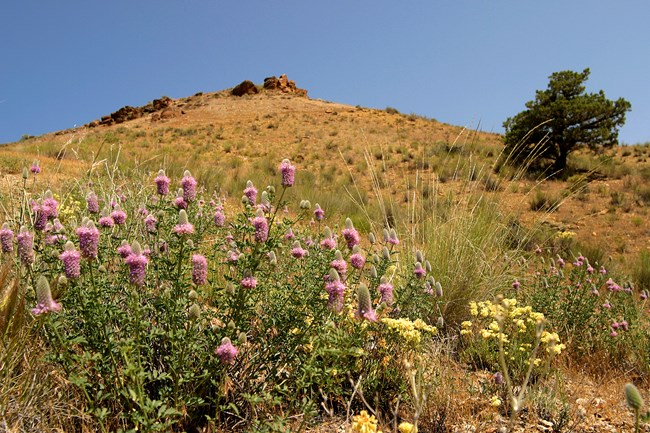 Wildflower Season
A variety of wildflowers grow during spring and summer months, supporting pollinators and other insects. If plants are picked or trampled, it can be devastating to the landscape and its inhabitants. A temporary dashboard display is not worth destroying a species' ability to bloom the following year.
Footsteps compacting the soil, especially when trails are wet or have lingering snow, lead to stunted or eliminated plant growth. If a trail is too slick or muddy to navigate easily and safely, it is time to turn back.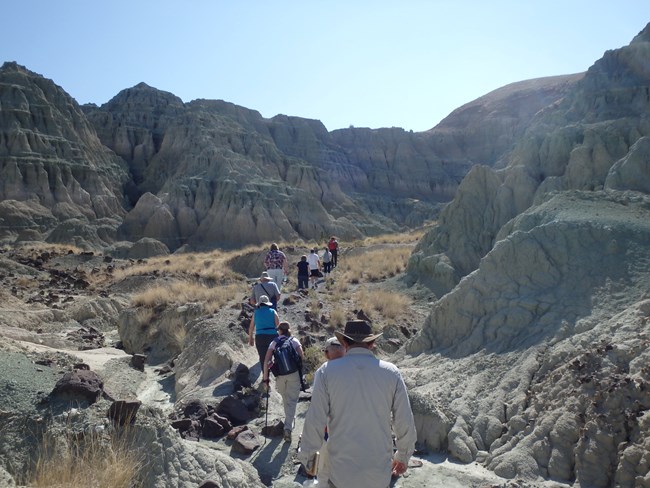 Join Our Efforts
How will you encourage others using #DontHurtTheDirt to protect the landscape and paleontological resource?
Want to be involved in protecting the geologic and paleontological resources at John Day Fossil Beds? Learn about the
Painted Hills Pals and other volunteer opportunities!
Last updated: August 4, 2022