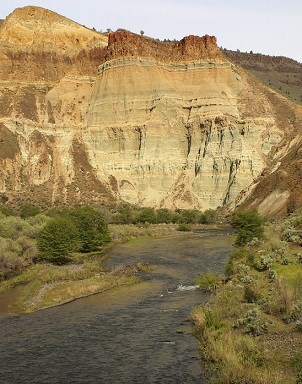 Striking Strata
The middle and upper portions of the extensive John Day Formation can be conveniently divided into four major fossil-bearing units deposited between 30 and 18 million years ago. From oldest to youngest, they include the Bridge Creek Flora, Turtle Cove, Kimberly, and the Haystack Valley.
More fossils are found in the John Day strata than in any other layers in this area. This period continues the general trend of cooling and drying in North America. Early in the John Day time, when the Bridge Creek and Turtle Cove units were formed, the climate was temperate and humid.
By the time the later Kimberly and Haystack Valley units were deposited, it was cooler and drier.
Watch for indications of changes in climate and landscape as you proceed on your journey through the units of the John Day strata.