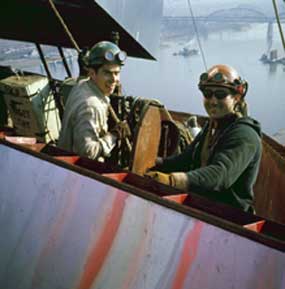 Construction Worker Identification Program


The JNEM Archives launched a project to identify the workers in the Gateway Arch construction images.
These images are slides, mostly taken by amateur photographers from approximately 1963-1966. They have been scanned and uploaded into our
Flickr account
. If you worked on the Gateway Arch yourself, or if you know someone who did and you can help us to identify people in the photos, the park would be very appreciative.
Even if you don't know anyone who worked on the Arch you may enjoy the photographs! On the
Flickr site
you can tag, make notes on or comment on the images. If you would like to use the images in a project, they may be downloaded, the archivist would really love to hear about it if you do use them and the park should be credited: National Park Service, Jefferson National Expansion Memorial.
You can
contact the archivist
if you have any questions about the project or about the
Flickr site
or would like to come in to see the slides in person.