Visual Image Collection
The Visual Image Study Collection contains over 20,000 slides and 8,000 photographs. Some of the main subject groupings are: the Gateway Arch, the Old Courthouse, the Museum of Westward Expansion and events at the park.

Slides and photographic prints may be examined in the library for study purposes. However, they cannot be loaned to researchers. Many of the images in the collection can be reproduced for purchase, subject to copyright regulation. Payment in advance is required for all photo orders. Please allow two weeks after payment for photographic orders to be filled. Any rush, express mail or special handling request will result in an additional charge.
For price information or general inquiries regarding the collection, please contact Curator Jennifer Clark at the JNEM Library at (voice) 314-655-1631.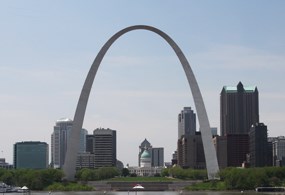 Last updated: September 30, 2022