News Release
Become an Isle Royale Summer 2022 Teen Artist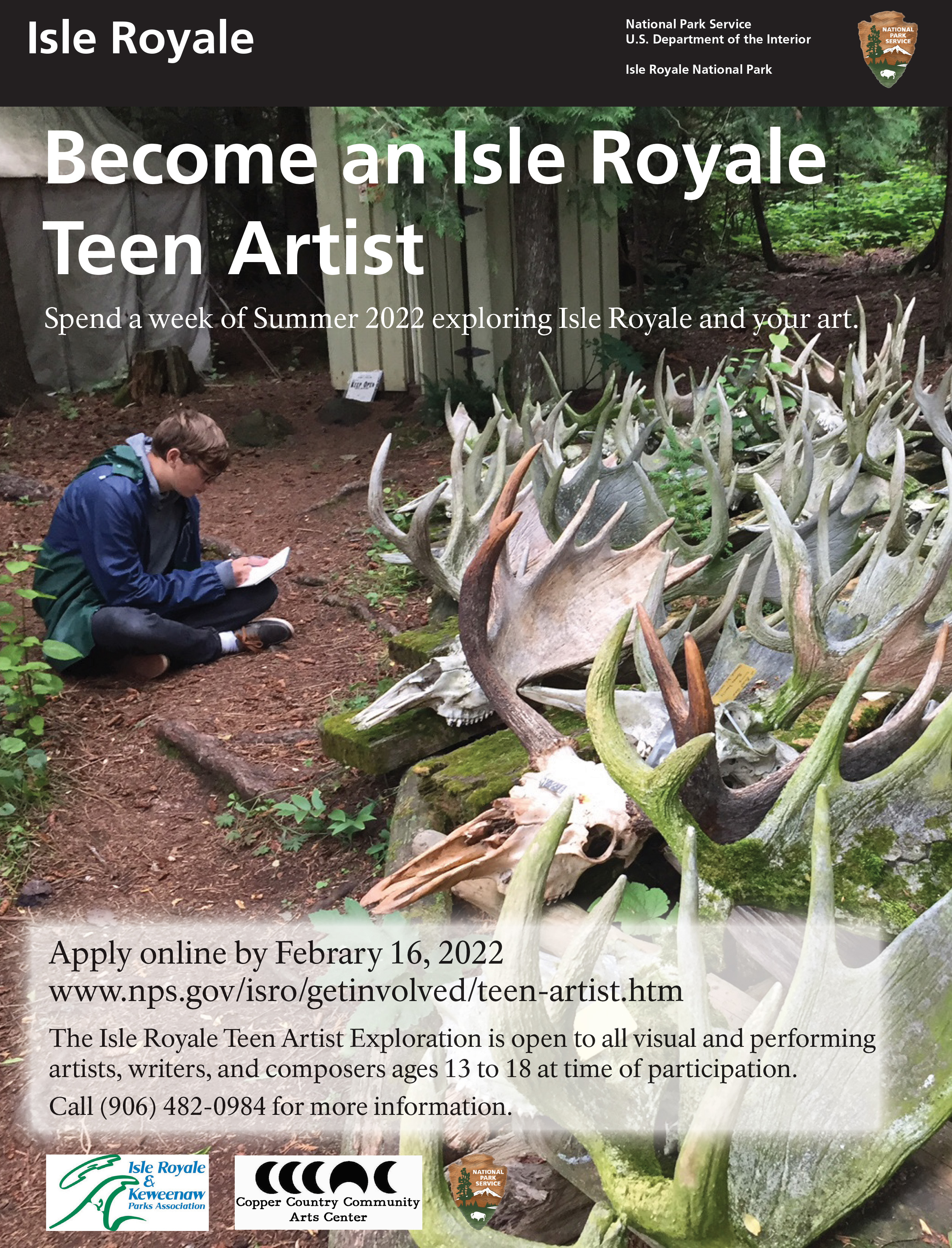 News Release Date:
January 4, 2022
Contact: Christopher M Amidon, 906-482-0984
HOUGHTON, MI – Applications for Isle Royale National Park's 2022 Teen Artist Exploration will be accepted between January 2 and February 16, 2022. This artistic discovery is geared to all aspiring teen artists who want to develop their art through experiencing wilderness, and is open to all visual and performing artists, writers, and composers ages 13 to 18 at time of participation.

Elisha Houle, the 2016 teen artist said of her time on the Island: "Isle Royale and the Teen Artist Exploration has opened my life to so many amazing things. My art has taken on a new dynamic; I appreciate so much more the wild and natural ways of life the Island showed me."

Over the course of a week, two selected teen artists will explore their art and the island--hike and backpack along wave-washed shores, canoe quiet bays of Lake Superior, or sketch wildlife among the boreal forest. A mentor will provide coaching during the artistic and wilderness exploration. Interested artists must be available for at least one of the potential summer 2022 time periods. One of these time periods will be the program dates:
June 24 – 29
July 22 – 27
The 2022 program is a 6 day, 5 night camping experience in the Rock Harbor area. All applicants must be comfortable camping on a remote island. Park rangers and the program mentor will assist with ferry transportation, campground reservations, and camping equipment. A legal guardian must accompany a teen artist seventeen or younger.

On the first and last day of the program, selected artists and their families (up to 4 people total) will receive complimentary transportation to and from the island provided on Ranger III, a 165-foot ship operating from Houghton, Michigan. 

Isle Royale and Keweenaw Parks Association, and the Copper Country Community Arts Council sponsor the program. The selected artists are required to donate to the park a piece of artwork representative of their stay on Isle Royale. 

Visit the Teen Artist Exploration website for the online submission process: https://www.nps.gov/isro/getinvolved/teen-artist.htm. To be considered, all application components must be digitally received by 11:59 pm on February 16, 2022. Entries received after February 16 will not be considered. Notification to all applicants will be made by May 1, 2022. For further information, visit the park's website, call (906) 482-0984, or email isro_parkinfo@nps.gov.
About the National Park Service. More than 20,000 National Park Service employees care for the 417 parks in the National Park System and work with communities across the nation to help preserve local history and create close-to-home recreational opportunities. Visit us at www.nps.gov, on Facebook www.facebook.com/nationalparkservice, Twitter www.twitter.com/natlparkservice, and YouTube www.youtube.com/nationalparkservice. 
Last updated: January 4, 2022