Inventory & Monitoring at National Capital Parks - East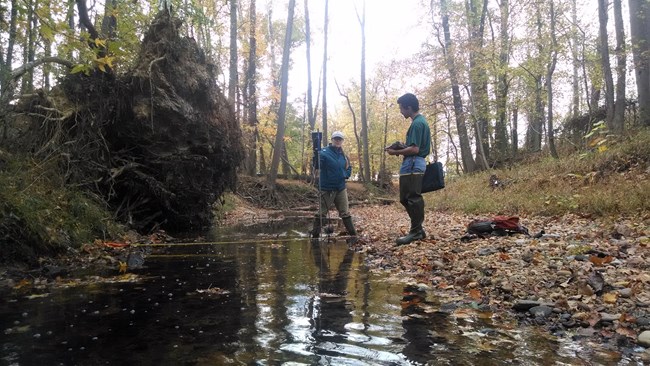 To help protect park natural resources like forests, streams, and wildlife, a team of National Park Service ecologists with the National Capital Region Inventory & Monitoring Network (NCRN I&M) is continually assessing conditions at the parks that make up National Capital Parks-East (NACE).
Jump to:
Species Lists
Resource Briefs
Reports
Quick Reads
NACE refers to a group of park sites stretching from Capitol Hill out into the Maryland suburbs. The National Capital Region Network (NCRN) monitors forest vegetation, water quality, birds, and other variables at the parks below (listed from north to south).
Greenbelt Park: 9 forest vegetation sites, 7 forest bird sites, and water quality in Still Creek (both quarterly and continuous)
Baltimore-Washington Parkway: 10 forest vegetation sites, 0 forest bird sites due to road noise.

Kenilworth Aquatic Gardens: 1 forest vegetation site, 5 marsh elevation (SET) sites
Anacostia Park: 1 forest vegetation site, 1 forest bird site, 5 marsh elevation (SET) sites (in Kingman Marsh)
Fort Circle: 2 forest vegetation sites, 2 forest bird sites
Fort Dupont: 3 forest vegetation sites, 4 forest bird sites
Shepard Parkway: 2 forest vegetation sites
Suitland Parkway: 2 forest vegetation sites, water quality in Henson Creek

Oxon Cove: 2 forest vegetation sites, 2 forest bird sites, and water quality in Oxon Run
Fort Washington: 2 forest vegetation sites, 3 forest bird sites
Piscataway Park: 13 forest vegetation sites, and 11 forest bird sites
Last updated: December 23, 2019