Forest Vegetation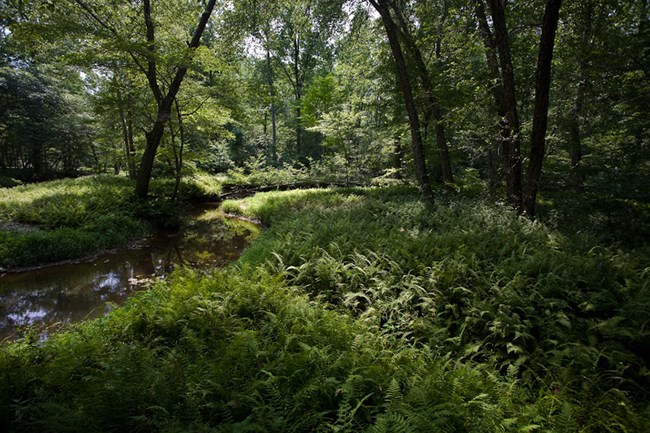 Forests are the dominant vegetation of national parks in the National Capital Region Network (NCRN) and the surrounding area. Approximately two-thirds of this park land is forested. These forests are part of the Eastern Deciduous Forest that stretches from Florida to New England and southern Canada, and extends as far west as Louisiana and Minnesota. These forests are dominated by broad-leafed deciduous trees, but conifers, such as pines and hemlocks, are common in some areas as well.
Jump to:
Forest Resource Briefs & Reports
Quick Reads
Most of the land in eastern US has been logged or cultivated at some point in the recent past. America's Eastern Deciduous Forest once occupied about a million square miles most of which is now human dominated. The remaining lands have some disturbance (logging concessions, secondary forests on abandoned farm fields, etc.) and are often found in smaller fragments. In the NCRN, forests are typically surrounded by urban or agricultural areas.
Monitoring
Forest vegetation monitoring includes many individual measures. Within each plot trees, shrubs, vines, and specific herbaceous plants are identified to species. Individual trees and shrubs are tagged and recorded and trees are assessed for canopy class and their diameter measured at breast height. Any evidence of deer browse on trees or shrubs is noted. Seedlings are counted and cover of herbaceous plants is recorded in 12 small quadrats. Presence of targeted invasive exotic plants and targeted insect pests and pathogens is recorded. Coarse woody debris is measured along three transects.
Last updated: May 18, 2022