Contact Us
The National Capital Region Network I&M program is housed at the regional Office of Natural Resources and Science (also known as CUE, or the Center for Urban Ecology) along with other regional natural resource personnel. Our mailing address is:
NCR Office of Natural Resources and Science
4598 MacArthur Blvd. NW
Washington, DC 20007
NCRN Staff Contacts

| | | | |
| --- | --- | --- | --- |
| Name | Title | Phone | Email |
| Andrejs Brolis | Biological Technician | 202-339-8305 | email |
| Bonnie Campbell | Data Manager | 202-339-8324 | email |
| Liz Matthews | Acting Program Manager | 202-339-8303 | email |
| Megan Nortrup | Information Sharing Specialist | 202-339-8314 | email |
| John Paul Schmit | Ecologist | 202-339-8321 | email |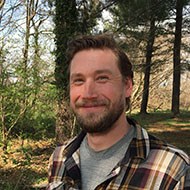 Andrejs Brolis
Andrejs is the Biological Science Technician team lead for the I&M forest vegetation and water monitoring programs. He is responsible for organizing fieldwork and collecting data from over 400 forest plots and 37 streams throughout the NCR.

Education: BS – Biology, Virginia Commonwealth University; Graduate Certificate – Geographic Information Systems (GIS), Penn State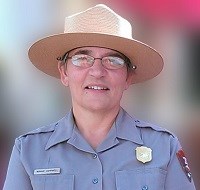 Bonnie Campbell
As NCRN's Data Manager, Bonnie designs, develops, maintains, and troubleshoots network databases, database applications, and interfaces supporting network field and analytical personnel. Prior to joining NCRN, Bonnie supported the Northern Colorado Plateau Network as Assistant Data Manager and was a member of the I&M Long Term Data Management Task Force focused on ensuring the legacy of I&M's ecological data.
Education: M.S. Environmental Science and Engineering, Oregon Graduate Institute; M.A.T. Secondary Science Education, College of St. Thomas; B.A. Biology and Chemistry, St. Olaf College; masters studies in Civil and Arctic Engineering, Portland State University and University of Alaska, Anchorage.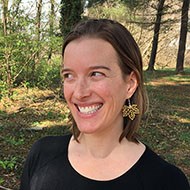 Liz Matthews
Liz is the Botanist for the National Capital Region Network. She is responsible for leading NCRN's forest vegetation monitoring program which tracks vegetation at more than 400 forest plots throughout the region. Prior to joining I&M, Liz co-directed the California Phenology Project, a long-term plant phenology monitoring program initially funded by the National Park Service Climate Change Response Program. Her PhD studies focused on alluvial vegetation of the Piedmont. Other interests include traveling, hiking, birding, and yoga.
Education: BS - Forestry, University of the South, Sewanee, TN; PhD - Ecology, University of North Carolina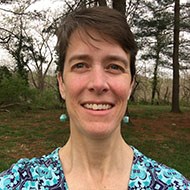 Megan Nortrup
Megan is an Information Sharing Specialist with the NCRN and the broader natural and cultural resources team within the capital region. For NCRN, she is primarily responsible for disseminating information about I&M data and monitoring through NPS publications, fact sheets, reports, presentations, and the I&M website. She also acts as a communications liaison to the regional parks. Before joining I&M, Megan wrote and edited materials for the Association of American Geographers and worked as a gardener at the U.S. National Arboretum. Her interests include botany, biogeography, and agricultural ecology.
Education: BS - Geography, University of Illinois; BFA - Music, University of Illinois; graduate-level coursework in Landscape Design, George Washington University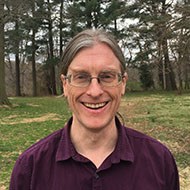 John Paul Schmit
John Paul is the NCRN Quantitative Ecologist. He assists with the development of the sampling design for the monitoring plan. He also analyzes monitoring data to detect long term trends in the network parks. His research interests have focused on biodiversity, biogeography, and competition of fungi.
Education: BA - Biology, Grinnell College; MS and PhD. - Evolutionary Biology, University of Chicago
Last updated: July 2, 2019