Contact Us
The National Capital Region Network I&M program is housed at the regional Office of Natural Resources and Science (also known as CUE, or the Center for Urban Ecology) along with other regional natural resource personnel. Our mailing address is:
NCR Office of Natural Resources and Science
4598 MacArthur Blvd. NW
Washington, DC 20007
NCRN Staff Contacts

| | | | |
| --- | --- | --- | --- |
| Name | Title | Phone | Email |
| Lindsay Ashley | Biological Science Technician | | email |
| Andrejs Brolis | Biologist | 202-339-8305 | email |
| Crystal Chen | Science Communication Intern | | email |
| David Jones | Data Manager | | email |
| Liz Matthews | Regional Program Manager | 202-339-8303 | email |
| Megan Nortrup | Information Sharing Specialist | 202-339-8314 | email |
| John Paul Schmit | Ecologist | 202-339-8321 | email |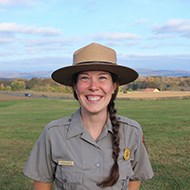 Lindsay Ashley
Lindsay is the Biological Science Technician for the NCRN I&M program. She leads field operations for water and forest vegetation monitoring at parks across the region. She is responsible for scheduling field work, training and overseeing seasonal staff, and organizing and maintaining field gear in order to collect data from over 400 forest plots and 37 streams throughout the NCA. Before joining I&M, Lindsay worked two seasons in the Natural Resource Management division at Antietam National Battlefield.

Education: BS – Organismal Biology, Christopher Newport University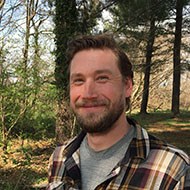 Andrejs Brolis
Andrejs is the Biologist for the NCRN I&M program. He is the protocol lead for forest vegetation and water monitoring protocols and works with NCRN staff to develop cooperative and interagency agreements with institutions to carry out inventory, monitoring, and other research activities essential to the network.

Education: BS – Biology, Virginia Commonwealth University; Graduate Certificate – Geographic Information Systems (GIS), Penn State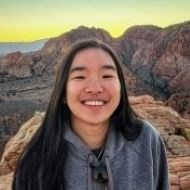 Crystal Chen
Crystal is the Science Communication Intern for the NCRN I&M program. She is responsible for synthesizing natural resource data through NPS newsletters, resource briefs, and I&M web content. Before this, Crystal worked two seasons as a Cartographic Technician for the Northern Great Plains I&M Network and at the Great Smoky Mountains National Park. Her interests include photography, adventuring outdoors, yoga, and woodworking.

Education: BS - Psychology, Indiana University
David Jones
David is the Data Manager for the NCRN I&M program. He is responsible for developing and maintaining databases and mobile / field-based data collection solutions for all NCRN I&M monitoring protocols. David works closely with NCRN's staff to implement quality control procedures and deliver data to internal and external stakeholders. David has a diverse ecology and natural resource management background using GIS to develop and analyze ecological and resource management questions. His graduate work was focused on detecting forest cover changes in the Southeastern US using Landsat and Sentinel satellite imagery. David enjoys hiking, mountain biking, snowboarding, carpentry / woodworking, and permaculture.
Education: BS in Natural Resources Ecosystems Assessment, Forest Management Minor; Master of Geographic Information Science and Technology, North Carolina State University.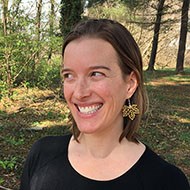 Liz Matthews
Liz is the Program Manager for the National Capital Region Network. She is responsible for planning, management, and implementation of all aspects of the NCRN I&M Program including managing budgets, establishing workplans, and contributing to the scientific activities of protocol development, data analysis, and interpretation. Prior to her selection as Program Manager, Liz served as the network's Botanist, directing NCRN's vast regional forest vegetation monitoring program. Before joining I&M, Liz co-directed the California Phenology Project, a long-term plant phenology monitoring program initially funded by the National Park Service Climate Change Response Program. Her PhD studies focused on describing and restoring alluvial vegetation in the U.S. Piedmont region. Other interests include botanizing, hiking, yoga, and exploring the natural world, near and far, with her family.
Education: BS - Forestry, University of the South, Sewanee, TN; PhD - Ecology, University of North Carolina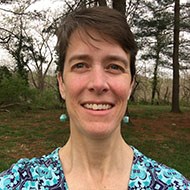 Megan Nortrup
Megan is an Information Sharing Specialist with the NCRN and the broader natural and cultural resources team within the capital region. For NCRN, she is primarily responsible for disseminating information about I&M data and monitoring through NPS publications, fact sheets, reports, presentations, and the I&M website. She also acts as a communications liaison to the regional parks. Before joining I&M, Megan wrote and edited materials for the Association of American Geographers and worked as a gardener at the U.S. National Arboretum. Her interests include botany, biogeography, and agricultural ecology.
Education: BS - Geography, University of Illinois; BFA - Music, University of Illinois; graduate-level coursework in Landscape Design, George Washington University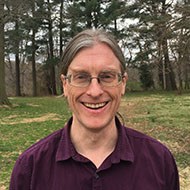 John Paul Schmit
John Paul is the NCRN Quantitative Ecologist. He assists with the development of the sampling design for the monitoring plan. He also analyzes monitoring data to detect long term trends in the network parks. His research interests have focused on biodiversity, biogeography, and competition of fungi.
Education: BA - Biology, Grinnell College; MS and PhD. - Evolutionary Biology, University of Chicago
Last updated: February 24, 2022