Birds
A Quick Look
Bird populations are fairly stable. We've observed 157 species across our parks.
---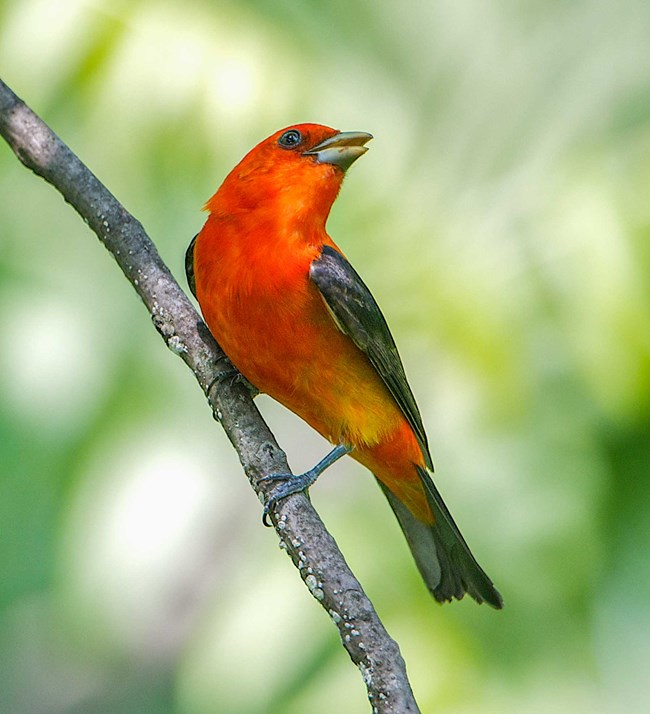 Importance and Issues
Birds are a valuable part of natural ecosystems in National Capital Region parks and are sensitive to habitat changes. The two largest regional habitat types are forests and grasslands.

Outside of parks, birds face the loss of these habitats due to human activities like land development and natural processes like succession. This has led to an increase in the use of more stable park forest habitats. Yet these habitats are subject to the challenges of deer browse, insect pests, tree diseases, and invasive plants. These stressors have reduced food sources, nesting sites, and other habitat values. Jump to how we monitor birds.
Monitoring Questions and Approach
Of the birds found in the park, which species are stable, increasing, or decreasing?
How widespread is each bird species across forest and grassland habitats?
How abundant are species that are high priority for conservation?
What are possible threats to birds?
What potential management actions can protect birds?
Detailed monitoring objectives from our protocol document are found here.
How We Monitor
Forest Birds
In 2007, the National Capital Region Network began forest bird monitoring. Field crews monitor birds at about 385 forested plots, twice every summer, for a total of ~770 visits a year. Many sites are also used in forest vegetation monitoring.
We use point count methods at two distances: near (under 50 meters) and far (50-100 meters). Then, we analyze long-term trends in bird density and abundance for different species.
Grassland Birds
We monitor grassland birds at a subset of network parks. We began grassland bird monitoring at Manassas National Battlefield Park in 2014, at Antietam National Battlefield in 2015, and at Monocacy National Battlefield and Harpers Ferry National Historical Park in 2016. Grassland bird monitoring follows the same protocols as forest bird monitoring, except the plots are visited three times a year instead of two.
Last updated: October 24, 2022