Stream Water
A Quick Look
In the larger DC area, streams typically have high levels of specific conductance, phosphorus, and nitrogen.
---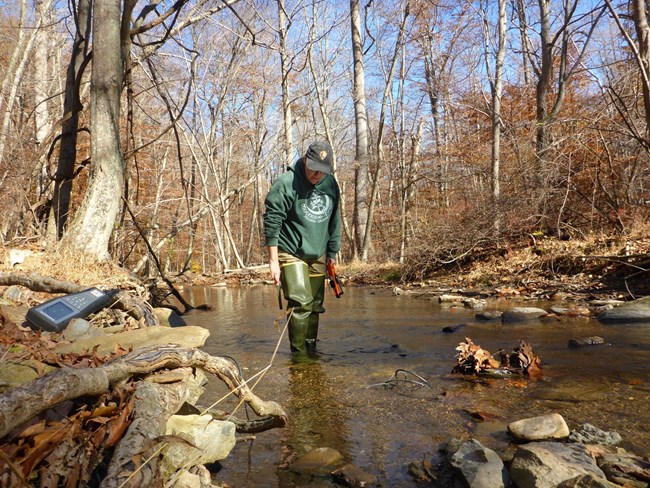 Importance and Issues
The entire National Capital Region Network (NCRN) is part of the 64,000 square mile watershed of the Chesapeake Bay, the largest estuary in the United States. The vast majority of park streams fall within the Potomac River watershed, the Bay's second-largest tributary. A few small parts of National Capital Parks - East (the Suitland Parkway and Baltimore and Washington Parkway) lie within the Patuxent River watershed.
The quantity of water in streams and the materials dissolved in them can all affect the productivity of ecosystems and what species can live where. We monitor stream conditions that are important in maintaining a healthy habitat for aquatic organisms, wildlife, plants, and humans. Jump to how we monitor stream water quality.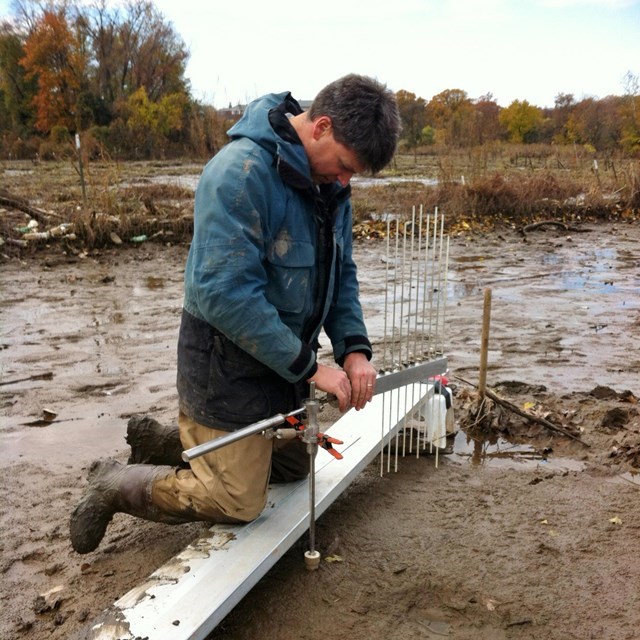 Freshwater Tidal Marsh Monitoring
Rising sea levels, caused by climate change, threaten to submerge the unique freshwater tidal marshes of the Potomac and Anacostia Rivers. We measure the elevation of these tidal marshes to find out whether they are building up sediment fast enough to keep pace with sea level rise. This monitoring is often called SET monitoring for the surface elevation tables (SET) used to measure marsh elevation.

This work is done in partnership with the Northeast Coastal and Barrier and the Northeast Temperate Inventory and Monitoring networks and with select US Fish and Wildlife Service refuges. Our data helps inform trends for the entire North Atlantic region. Read the project work plan.
Monitoring Questions and Approach
How does water chemistry fluctuate on a monthly and seasonal basis, and over the long term?

What trends are present in water chemistry?

What is the condition of park streams?

What are the variability and trends in stream flow volume (discharge)?

Is enough water available for ecological, recreational, and aesthetic purposes?

What are potential stressors to park waters?

Are freshwater tidal marshes building sediment at a rate that keeps pace with sea level rise?
Check out detailed monitoring objectives from our protocol document.
How We Monitor
We monitor water in non-tidal, first through fourth order streams at 37 sites across all NCRN parks except Chesapeake and Ohio Canal. We began stream monitoring in 2005 and currently monitor on a bi-monthly basis. We measure the following parameters:
Water chemistry: temperature, pH, specific conductance, salinity, acid neutralizing capacity, and dissolved oxygen
Nutrient dynamics: total nitrate (NO3) and total phosphorous (PO4)
Surface water dynamics: flow, discharge, water depth, and wetted width
Last updated: November 22, 2022