Natural Resources Monitoring at Bryce Canyon National Park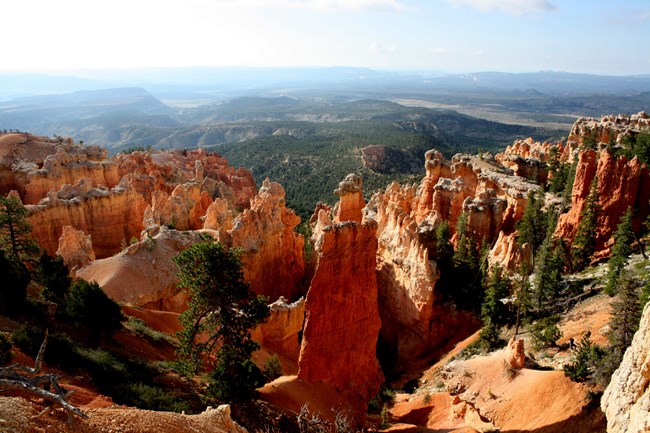 The NCPN monitors air quality, climate, land surface phenology, landbirds, landscape dynamics, uplands, and water quality at Bryce Canyon National Park. The results of that monitoring provide park managers with scientific information for decisionmaking.
Before becoming a national park in 1928, Bryce Canyon National Park was established as Bryce Canyon National Monument by Presidential Proclamation in June 1923, "because of unusual scenic beauty, scientific interest and importance." The park is known internationally for its brightly colored and towering formations of limestone, clay, and silt, which were created primarily by the erosive forces of water.
Elevation ranges from approximately 1,859 meters (6,100 feet) in the eastern lowlands to 2,774 meters (9,100 feet) at the park's southern end. Annual precipitation averages 381 millimeters (15 inches) with an average annual snowfall of 254 centimeters (100 inches) at headquarters. Overall, upland woodlands dominate the park—especially ponderosa pine and/or two-needle pinyon-juniper species. Most shrublands occur as small patches. Native grasslands intermix with shrublands; riparian and wetland plants occur almost exclusively in wet meadows and along streams on the west side of the park.
Visitor-use density, adjacent land-use impacts, and exotic plant species invasion are the park's main natural resource management concerns. However, the absence of human development and artificial light creates conditions for unimpeded distant views by day and unparalleled viewing of the brilliant night skies.
Last updated: October 20, 2022