Natural Resources Monitoring at Hovenweep National Monument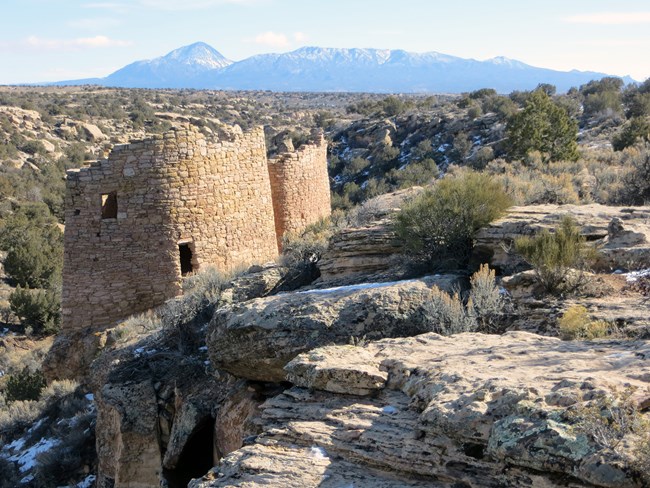 The Northern Colorado Plateau Network monitors climate, land surface phenology, landscape dynamics, springs and seeps, and water quality at Hovenweep National Monument. The results of that monitoring provide park managers with scientific information for decisionmaking.
Hovenweep National Monument was established by Presidential Proclamation in 1923, to preserve "groups of ruins, including prehistoric structures, the majority of which belong to unique types not found in other National Monuments, and show the finest prehistoric masonry in the United States." The monument is best known for protecting a collection of canyon-rim towers and villages that are the best preserved and protected, most visually striking, and most accessible examples of thirteenth-century Ancestral Puebloan architecture within the San Juan River Basin.
The monument comprises six distinct units. Elevation ranges from 1,585 meters (5,200 feet) at the Cajon unit to 2,060 meters (6,760 feet) at the Goodman Point unit. The climate in this high desert is dry, with an average of 305 millimeters (12 inches) of precipitation per year. Temperatures range from winter lows of -10 to 0°F to summer highs averaging 100–105°F, with a mean annual temperature of 52°F. The monument's shrubland types are influenced by precipitation, landscape position, soil depth, and alkalinity/salinity. Woodland associations are established on canyon sides, canyon rims, slopes, and hills. Herbaceous plant communities are a relatively minor component of the monument's vegetation, and riparian vegetation is rare. While permanent water sources are limited, a few springs and seeps in canyonheads produce water year-round.
Trespass livestock, exotic plant species invasion, adjacent land-use impacts, and increasing recreational use are the monument's main natural resource management concerns.
Last updated: October 31, 2020