Heritage Documentation Programs celebrates National Hispanic Heritage Month
September 15 - October 15
By Presidential Proclamation, September 15 - October 15 is designated as National Hispanic Heritage Month. Heritage Documentation Programs is pleased to promote awareness of and appreciation for the history and accomplishments of Hispanic Americans during this month. As part of this celebration, our site showcases a selection of historic properties documented by HDP, commemorating the events and people, the designs and achievements that help illustrate Hispanic Americans' contributions to American history.
Featured Properties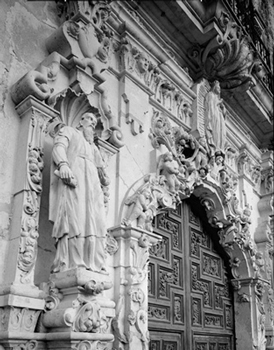 Missions of San Antonio
HABS TX-318
HABS TX-319
HABS TX-320
HABS TX-321
HABS TX-333
San Antonio, Texas
This concentration of Catholic missions represents some of the finest examples of Spanish art and architecture in North America.
Mesilla Plaza
HALS NM-2
Mesilla, New Mexico
On November 16th, 1864, the United States flag was raised on the Mesilla Plaza to signify the Gadsden Purchase Treaty.
La Iglesia de San Albino
HABS NM-213
Mesilla, New Mexico
The Church of San Albino, built in 1906, occupies the location of an 1857 adobe church and is one of the oldest churches in Mesilla Valley.
Maurin Building
HABS NM-214
Mesilla, New Mexico
This is one of the oldest documented brick buildings in New Mexico, built by Augustine Maurin in 1863.
Barela-Reynolds House
HABS NM-205
Mesilla, New Mexico
This house is considered an excellent example of a Territorial-style structure.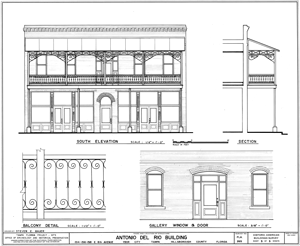 Ybor City
HABS FL-217
HABS FL-263 through HABS FL-272
HABS FL-325 through HABS FL-331
HABS FL-400
HABS FL-410
HABS FL-412 through HABS FL-443
HABS FL-446 through HABS FL-453
HABS FL-457 through HABS FL-462
HABS FL-466 through HABS FL-470
Tampa, Florida
Once known as the "Cigar Capital of the World," this company town was a cigar-manufacturing center.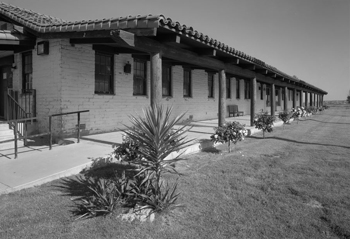 César Chávez's Forty Acres
HABS CA-2878
Delano, California
This site, a National Historic Landmark, is associated with the life of César Estrada Chávez and served as the headquarters for the first permanent agricultural labor union in the United States, the United Farm Workers of America.
Forts of San Juan
HABS PR-47
HABS PR-48
HABS PR-52
HABS PR-54
HABS PR-55
HABS PR-94
HABS PR-135
San Juan, Puerto Rico
These fortifications are known as the the guardians of the Caribbean.