The Forts of San Juan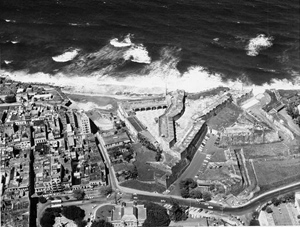 HABS PR-47
HABS PR-48
HABS PR-52
HABS PR-55
HABS PR-94
San Juan, Puerto Rico
When the Spanish came to the New World, they founded their second city at San Juan, Puerto Rico, building several forts to protect the city and the prosperity it promised: Fort San Felipe del Morro (El Morro), Castle San Cristóbal and El Palacio de Santa Catalina (La Forteleza). Built in the sixteenth century, the forts are the only European-style battlements on United States territory, and were designated a World Heritage Site by the United Nations in 1983.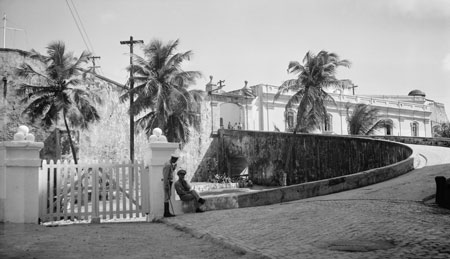 The forts followed well-established Spanish conventions in construction and architecture. Along with their subsequent additions, like the dome-shaped sentry boxes called
garitas
on El Morro and a World War II addition of a concrete artillery observation post in the Castle San Cristóbal, they illustrate military history at its finest. El Morro was built specifically to guard against enemy threats from the sea and has become one of the most visited sites in Puerto Rico. Castle San Cristóbal was built to protect against enemy threats from land and was the largest fortification built by the Spanish in the New World. La Forteleza was the first built and continues in use today as the governor's palace, making it the oldest executive mansion in the New World. Other smaller fortifications on the island served as support for the larger forts, such as the
Fortin de San Juan de la Cruz (El Cañuelo)
, and the
Fuerte El Abanico
.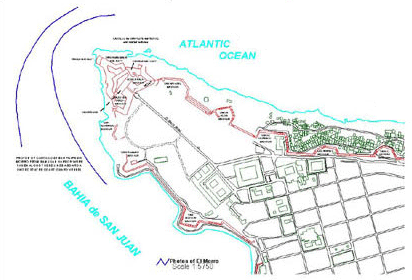 These forts have been extensively documented by HABS since the 1930s. In an effort to track and monitor deterioration in the exterior stucco layer, HABS photographer Jack Boucher, accompanied by Cultural Resources Geographic Information Systems (CRGIS) staff, visited the site in 1998 to rephotograph the walls from the precise vantage points he had used in 1960. It was hoped that photographs from different periods would not only show where the deterioration was occurring, but would also alleviate concerns over the need for re-stuccoing.
As part of this project
, the CRGIS staff collected data representing the fortifications and city walls within the San Juan National Historic site, a portion of the waterline around Old San Jaun, and buildings, roads, road traces, and parking areas within Old San Juan. In an additional effort by HABS to document the walls of San Juan, HABS architects produced measured drawings of
the walls
in 1999-2000 to aid in the conservation and restoration of
the site
.