The Missions of San Antonio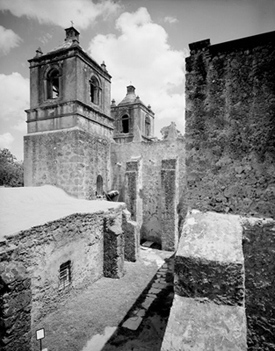 HABS TX-318
HABS TX-319
HABS TX-320
HABS TX-321
HABS TX-333
San Antonio, Texas
Beginning in the sixteenth century, Franciscan missionaries and Spanish soldiers began exploring and colonizing the river valleys north of Mexico. San Antonio exists today as a result of five thriving missions erected between 1718 and 1731. This chain includes San Antonio de Valero (the Alamo), Concepcion, San José y San Miguel de Aguayo, San Juan de Capistrano, and San Francisco de la Espada. This concentration of Catholic missions represents some of the finest examples of Spanish art and architecture in North America.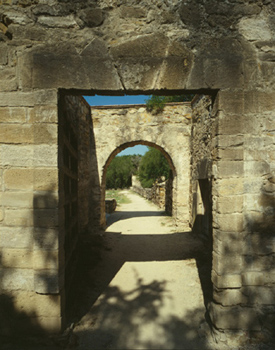 The Missions were important to the Spanish government to secure their claims to the vast frontier in North America from English and French encroachment. They influenced the area politically, religiously, and culturally, providing a safe, walled and fortified environment in which native peoples, soldiers, and settlers coexisted and thrived. Missions included a convento, workshops and storerooms, but the church was always the focal point. The Mission churches had elaborately- carved stone façades, sometimes brightly painted to inspire and inform the converts and parishioners. The educational and vocational aspects of the missions also impacted the area's agriculture and commerce.
The five San Antonio Missions are a unit of the National Park Service, and were documented by HABS in the 1930s. The documentation was expanded in the 1980s and continues to inform the maintenance and restoration of the missions. San Antonio was connected to the Spanish colonial empire by caminos reales, or road networks. El Camino Real de los Tejas National Historic Trail was added to the National Trails System by act of Congress in 2004. This trail linked Mexico City through Texas and into Louisiana to the Spanish colonial capital at Los Adaes.