Mesilla Plaza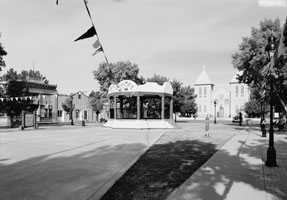 HALS NM-2
Bounded by Calle de Principal, Calle de Parian, Calle de Guadalupe, and Calle de Santiago
Mesilla, NM
Mesilla was founded by an 1848 decree issued by the Mexican Government to bring Mexican citizens from the territory recently ceded to the United States into Mexican domain. However, by the terms of the Gadsden Purchase Treaty in 1853, Mesilla became part of the United States and on November 16, 1854, the U.S. flag was raised over the Mesilla Plaza, confirming the bi-lateral agreement.
As with most of the early towns built in Mexican territory, Mesilla began as a collection of jacales closely clustered around a central plaza for defense against Indian attacks. Soon thereafter, the jacales were replaced by buildings of more permanence that were erected in a Territorial style. The Mesilla Plaza is rectangular in shape running lengthwise slightly northwest by southeast. Before the late 1930s, the Plaza was dirt, as were the surrounding roads, and delineated by elm trees. In the middle of Mesilla Plaza a bandstand was built during the 1930s. Today, Mesilla Plaza is still enclosed by many of the structures which date from the mid-nineteenth century.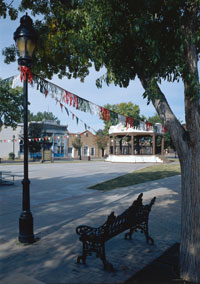 The plaza formation also reflects Hispanic cultural traditions where the central plaza serves as the focal point for religious, political and commercial activities. The Mesilla Plaza has hosted church ceremonies, political demonstrations and military headquarters throughout its history. These include the routing of the Butterfield Overland Stage and Mail Route (1857-1861) to California, the San-Antonio-San Diego Stage Route, and the establishment of a Confederate and then Union headquarters for the military territory of Arizona, during the Civil War. The plaza was also the site of one of the bloodiest incidents in New Mexican Territorial history. On the evening of August 27, 1871, rival Democratic and Republican parade marchers rioted after imbibing an ample supply of campaign whiskey. When the gun smoke cleared, and troops from Fort Seldon had restored order, nine men were dead and about 50 had been wounded.
The Mesilla Plaza was designated a National Historic Landmark by the Secretary of the Interior on July 4, 1961. The Historic American Landscapes Survey documented Mesilla Plaza in 2005. The site is open to the public and welcomes visitors to the plaza and surrounding structures for education and entertainment. The site is also in close proximity to other local border towns such as El Paso, Texas and to several missions that were established within the region.