Backcountry Permits
Grand Teton National Park encompasses over 310,000 acres of mountains, lakes, plains, and rivers with over 200 miles of hiking trails to explore. A backcountry trip takes planning as most trails gain elevation and many cross steep mountain passes. Snow and ice can remain on designated trails well into July. Rivers and creeks are extremely cold and swift from spring runoff. To plan your trip check out Backcountry and Camping information>>
Advance Backcountry Permits
Requests for advance backcountry reservations for the summer season are accepted beginning Wednesday, January 6, 2021 (starting 8 am MST) through May 15, 2021. All requests must be submitted using the website Recreation.gov. Customers will be able to view backcountry campsite availability in real-time and apply for reservations accordingly. You will be charged a $45 non-refundable processing fee for each trip upon completion of your reservation. To facilitate the permit reservation process, establish a Recreation.gov account prior to the reservation system open season.
First-come, First-serve Backcountry Permits
The park will reserve up to one-third of each camping zone (see maps) in advance, and save two-thirds of each zone for those who wish to get a first-come, first-served permit in person one day before the start of a backcountry trip (walk-in permit). Those who do not secure an advanced reservation may still apply for a walk-in permit. During peak season (July and August), competition for these walk-in permits is high. There is a $35 fee for each walk-in backcountry permit. Permits are available at the Craig Thomas Discovery and Visitor Center, Colter Bay Visitor Center, and the Jenny Lake Ranger Station. Check location for hours and season dates.

Any backcountry permit involving technical climbing or mountaineering and any backcountry permit for Garnet Canyon must be picked up at the Jenny Lake Ranger Station. Open early June through early September.
Know your trip
Be sure to research your trip itinerary before you attempt to reserve your trip. You may download the Backcountry Camping Brochure to view our backcountry map with the locations of campsites and mileages between them. You can also purchase topographical maps and books describing the trails by visiting the Grand Teton Association website at www.grandtetonpark.org.

Be aware that ice axes will be necessary for safe passage over all divides and passes (marked on our planning map and on topographical maps) until around the third week of July. Divides melt out on different dates each year depending on the past winter's snowpack depth and spring temperatures. For current backcountry conditions visit the Jenny Lake Climbing Rangers blogspot. Permits are not required for day climbs.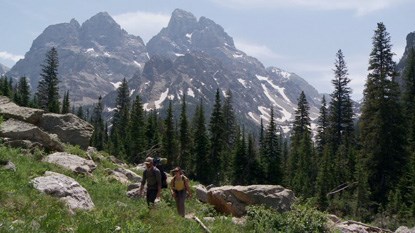 The park's new backcountry video will help prepare you for your adventure in Grand Teton National Park. Learn about safe travel, camping in bear country, clean camping principles and summer weather.


Last updated: December 3, 2020