North Rim

Day visits on the North Rim through November 30, 2019
The North Rim is open for dawn-to-dusk day use during November, 2019. The lodge and campground are closed. Plan to be self-sufficient. Bring enough food and water for the day, as services will not be available. Lodging is available in area communities.

Tues. Nov. 19, 2019: North Rim scenic roads to Cape Royal and Point Imperial have been closed in advance of a winter storm. The roads will remain closed until next May.
From Friday, November 1, through Saturday, November 30, 2019 the North Rim will remain open from dawn to dusk, for day-use only.
The North Rim Visitor Center, Backcountry Information Center and campground kiosk are closed, and the entrance station will be unstaffed. Fees will continue to be collected via an automated machine. Limited park staff is present on the North Rim year-round.
During the month of November 2019, the only water access point is at the North Rim Administration Building. The Grand Canyon Lodge Gift Shop will remain open Wednesdays through Sundays until Dec. 1, offering limited snacks and souvenirs.
Tues. Nov. 19, 2019: North Rim scenic roads to Cape Royal and Point Imperial have been closed in advance of a winter storm. The roads will remain closed until next May.
Camping after Oct. 31 is on a walk-in basis only and a backcountry permit is required. No vehicle camping is allowed. Permits can be obtained from the South Rim Backcountry Information Center at
www.nps.gov/grca/planyourvisit/backcountry-permit.htm
or by calling 928-638-7875.
The gates on Highway 67, which provides vehicular access to the North Rim, will be closed on Dec. 2, 2019, or after the first major snowfall.
All visitors wishing to visit the North Rim during November, 2019, should prepare for winter driving conditions on Highway 67, and throughout the park. Snow, ice or rain are common during this time of the year, and the roads are not plowed at night.
The self-serve gas station will remain open, pending park conditions, but will only accept credit or debit cards.
Please call the Arizona Highway Information line to check road conditions at 888-411-7623.
Nearby lodging, food services and fuel is located 45 miles north of the North Rim at Jacob Lake. Additional lodging and guest services are available in Fredonia, Arizona, and Kanab, Utah.
All visitor service operations on the North Rim will resume on May 15, 2020. The South Rim remains open year-round. Please call 928-638-7888 for information.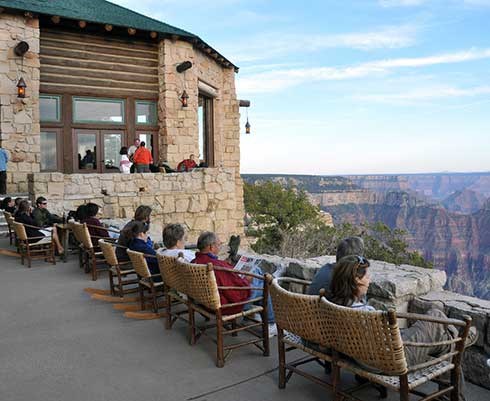 Introduction
Lodging and restaurants are open May 15 through Oct. 15.

A worthwhile trip for those who enjoy the road less traveled, the North Rim, or "other side" of Grand Canyon is visited by only 10% of all Grand Canyon visitors.

- The North Rim is over 8000 feet/2438 m. in elevation

- There is one lodge, Grand Canyon Lodge.
- and one campground, operated by the NPS.

Reservations for Lodging and the North Rim Campground are highly recommended.

During winter months, the North Rim closes because of snow.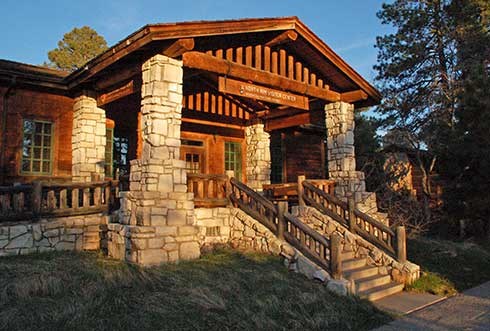 The hike across the canyon from South Rim to North Rim is 21 miles (34 km). However, driving from the South Rim to the North Rim by automobile requires a 4.5 hour drive of 220 miles (354 km).
Driving directions to the North Rim.
The North Rim Visitor Center, located adjacent to the parking lot for Grand Canyon Lodge and Bright Angel Point, provides park and regional information, maps, brochures, exhibits, and a bookstore.

During the season, the Visitor Center is open May 15 through October 15 from 8 am to 6 pm daily.

Interpretive ranger programs are offered daily during the season.

Public restrooms and outdoor exhibits are located behind the Visitor Center building.


Bright Angel Point
For classic North Rim views, start at the Grand Canyon Lodge patio, then walk the paved trail out to Bright Angel Point.

From the main parking area it is a relatively short, easy walk to Lodge itself. The lodge is wheelchair accessible.

From the lodge the paved, 0.5 mile (0.8 km) round-trip trail leads out the spine of the ridge to Bright Angel Point. This trail is steep in places, with drop-offs and stairs, but provides dramatic views into Roaring Springs and Bright Angel Canyons.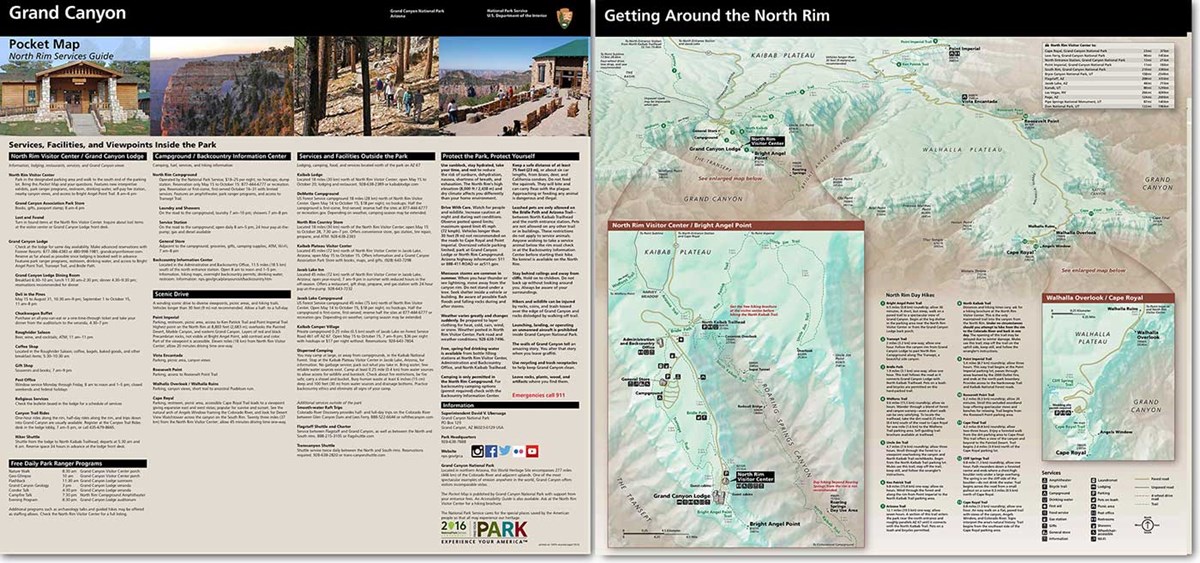 North Rim Scenic Drive
Point Imperial and Cape Royal are reached via a winding scenic drive. The trip to both points, with short walks at each and several stops at pullouts along the way, can easily take half a day.

Point Imperial, the highest point on the North Rim at 8,803 feet (2,683 meters), overlooks the Painted Desert and the eastern end of Grand Canyon. Here the canyon transforms as the narrow walls of Marble Canyon, visible only as a winding gash, open dramatically to become "grand." Layers of red and black Precambrian rocks, not visible at Bright Angel Point, add contrast and color. Part of the viewpoint is accessible.
Cape Royal provides a panorama up, down, and across the canyon. With seemingly unlimited vistas to the east and west, it is popular for both sunrise and sunset. The sweeping turn of the Colorado River at Unkar Delta is framed through the natural arch of Angels Window. Look for the Desert View Watchtower across the canyon on the South Rim. This popular viewpoint is accessible via a paved, level trail.
---
Winter Camping with a Backcountry Permit
North Rim roads are closed to all vehicles between December 1st and May 15th, and no visitor services are available.
During these winter months backpackers, snowshoers, and cross-country skiers are permitted to use the North Rim Campground, provided a
backcountry use permit
has been obtained in advance. – These permits are available through the South Rim Backcountry Information Center. (
e-mail us
or call 928-638-7875)
The closest place to park during this time is Jacob Lake. The hike through the snow from Jacob Lake to the North Rim Campground is around 45 miles. Hikers, snowshoers, and cross-country skiers will need to remain off the closed road (per Superintendent's Compendium re: safety from snowplows) and forge a path through the snow.
Note about Snowmobiles:

Snowmobiles are not permitted within the park.

Note about the Yurt:

The North Rim yurt was removed because of safety issues and is no longer available.
Visit our keyboard shortcuts docs for details
Duration:

8 minutes, 21 seconds
There is something about the North Rim of Grand Canyon that invokes a sense of solitude and serenity. This is a place that invites you to slow down, to ponder, to feel your own innate creativity, and to fall in love with landscape.
Last updated: November 19, 2019