Bicycling Information

Bicycle Rentals are available on the South Rim.
Click here to learn more.

Bicyclist campsites are available in the park's campgrounds
Bicycle/backpacker sites are $6.00 per person, per night.


NO CARS ARE ALLOWED!


The bicycle/backpack sites at Mather Campground (South Rim)
and at the North Rim Campground, are shared sites.
All park shuttle buses are equipped with




2-3 capacity bicycle racks mounted on the front of each bus.


Bicyclists are required to load and unload their own bikes and are responsible for bike security. This makes it possible to bicycle one way and ride the shuttle the other.
---
If you plan on bringing a bicycle, be aware that in Arizona, bicycles are subject to the same traffic rules as automobiles.
Use extreme caution when riding on park roads!
Shoulders are narrow and vehicle traffic is heavy.
Bicyclists share the road with vehicles.
There are no designated biking lanes.
Always ride single file with the flow of traffic
See and be seen; wear bright colors and a helmet.
Be prepared for possible weather changes.
Bicycles are prohibited
Inside the Grand Canyon (below the rim)
along any paved or unpaved portion of the Canyon Rim Trail
Bicycles are permitted
On all paved and unpaved park roads
On the 2.8 mile / 4.5 km Hermit Road Greenway Trail (South Rim.)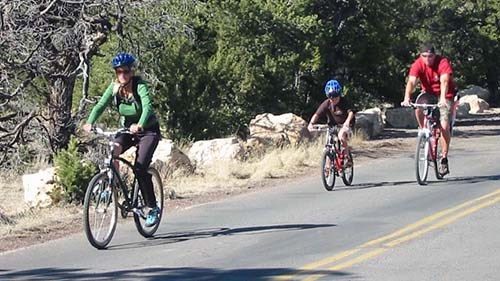 Scenic Hermit Road follows the canyon rim for 7 miles (11 km) and is one of the best places in the park for cycling. Most of the year, private vehicles restrictions eliminate most traffic.
On
Hermit Road
, bicyclists should pull to the right shoulder and dismount when large buses are attempting to pass. Never hang onto a shuttle bus while riding.
The
Hermit Road Greenway Trail
segment, between The Abyss and Hermits Rest, provides a bicycle path away from the road and, in places, along the rim of Grand Canyon.
Hermit Road Greenway Trail (2008)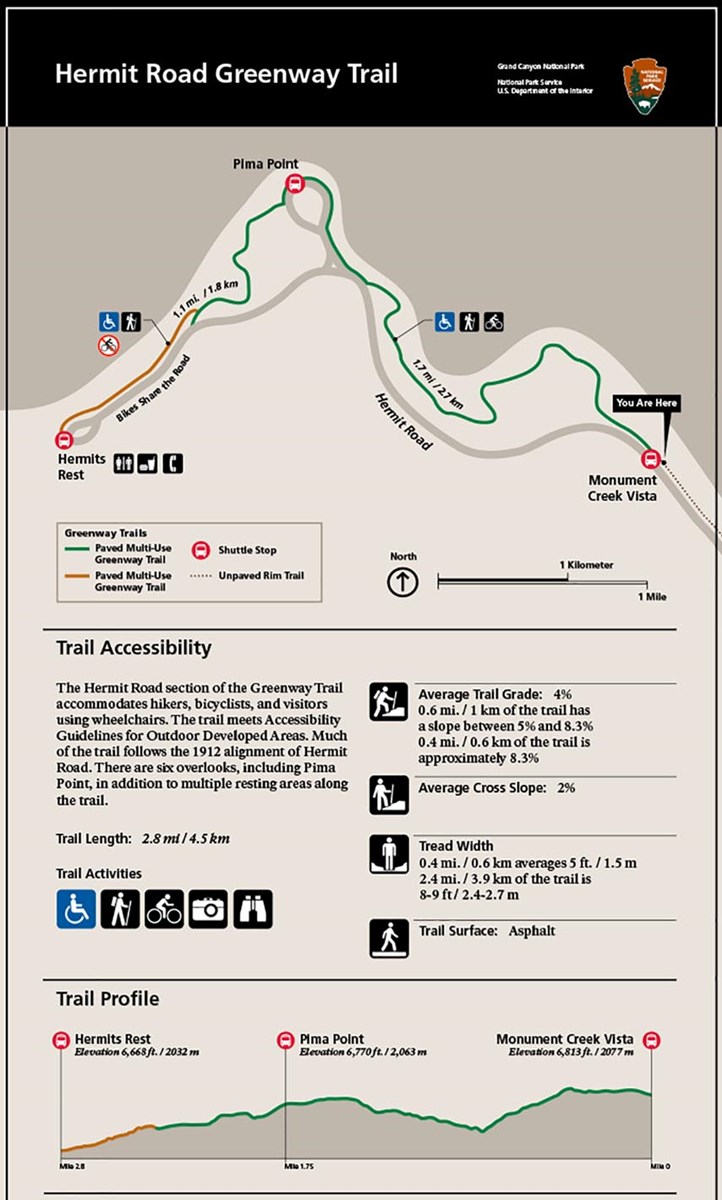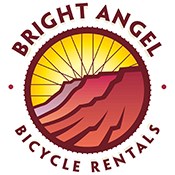 Bicycle Rentals & Guided Tours on the South Rim
are provided by by Bright Angel Bicycles and are located near the Visitor Center.

View Photos of the operation here.

Bicycle rentals and guided bicycle tours are available between March 15 and October 31. (other times, when weather permits - check their website for current availability) Also available is a coffee bar and café with a "grab & go" menu targeted towards hikers, bikers and pedestrians. The Café is open year-round.
---
WARNING:

The South Rim of Grand Canyon averages 7,000 feet / 2,134 meters above sea level. Visitors with respiratory or heart problems may experience difficulties. Exercising at this elevation can be strenuous. Please use caution and when engaging in any physical activities and use care not to push yourself. Always check the weather before exercising outside.
Visit our keyboard shortcuts docs for details
Duration:

3 minutes, 5 seconds
This Greenway is 6.5 miles (10.5 km) in length from the gateway community of Tusayan, AZ to Grand Canyon National Park's South Rim Visitor Center. This is a high altitude workout with a 500ft (152m) elevation gain. Note: paving of the entire trail was completed during the summer of 2016.
Last updated: November 30, 2017