News Release
A Look Back: Alcatraz Island Occupation's 50th Anniversary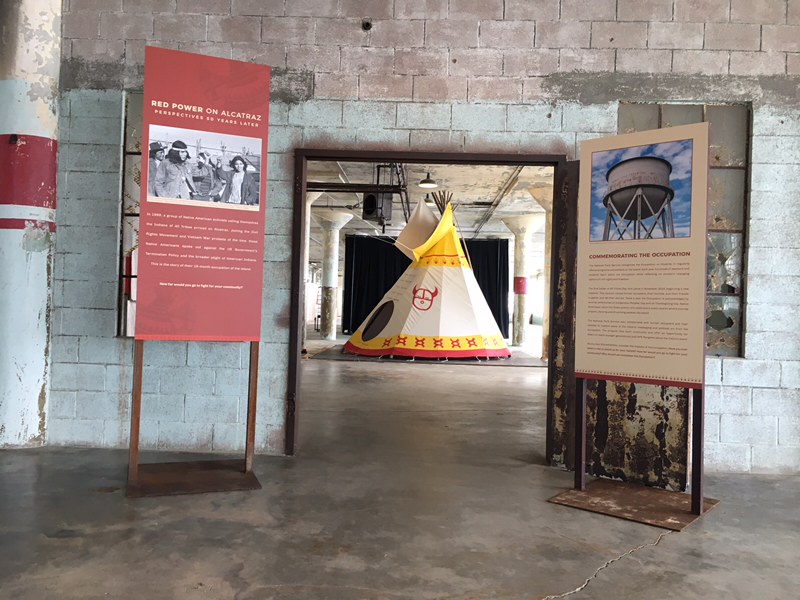 News Release Date:
November 14, 2019
Contact: GGNRA Public Affairs, 4155614732
SAN FRANCISCO, CA -- Golden Gate National Recreation Area will host three days of events to commemorate the 50th anniversary of the Alcatraz Occupation in collaboration with the Indians of All Tribes, Alcatraz Cruises, and the Golden Gate National Parks Conservancy. The free events will be held on November 20, 21, and 23 on Alcatraz Island, and mark the beginning of a 19-month long exhibit and a series of commemorative programming on the island.


There were three occupations of Alcatraz Island; March 9, 1964, November 9, 1969, and November 20, 1969. After the November 9 occupation, eighty Native American students from American Indian Studies Center at the University of California, Los Angeles were among approximately 100 Native Americans who initially occupied Alcatraz Island. Over time, participation continued to grow and the 19-month occupation of Alcatraz Island gave birth to a civil rights movement.

Ferry tickets to Alcatraz Island will sell out fast. If you plan to attend, buy your ferry tickets soon to get access to these free events. Check availability through Alcatraz Cruises at AlcatrazCruises.com. The ferry leaves from Pier 33 Alcatraz Landing.

Media is invited on all three days of events. There will be an Indian of All Tribes speaker panel and sign restoration on the morning of November 20. Media interested in covering this event should e-mail us to RSVP.
Schedule of Events:
Wednesday, November 20, 2019 
9:00 - 11:00 am **media and occupation reunion only**
The morning will include exhibit preview, opening remarks and blessings. This is an opportunity for those who spent time on Alcatraz Island during the historic occupation to reconnect -- some of them for the first time in 50 years. 
11:00 am - 12:00 pm
Restoration of an iconic messages painted on a former barracks building at the Alcatraz Island dock. 
1:00 - 4:00 pm
The afternoon event will feature speakers with a connection to the historic occupation and will be open to the public.
 
Thursday, November 21, 2019 | 9:30 am - 4:00 pm
A series of speakers will include veteran occupiers and family members in the New Industries Building from 10:00 am - 12:00 pm. The speakers will share their experiences of this historic event and its continuing relevance.This event will be closed from 12:00 pm - 1:00 pm. The afternoon event will feature speakers connected to the historic occupation.

Saturday, November 23, 2019 | 9:30 am - 4:00 pm
The new exhibit, Red Power on Alcatraz: Perspectives 50 Years Later, will be highlighted on Saturday, November 23. This day will feature an exhibit dedication, open houses with exhibitors: Ilka Hartmann and Stephen Shames, a presentation by Dr. LaNada War Jack and Kent Blansett, and a performance. The event will be closed from 12:00 pm - 1:00 pm. For the 19-month duration of the exhibit, visitors can view photographs by Ilka Hartmann and Stephen Shames, original materials from the collection of Kent Blansett, and contributions from the community of occupiers.
 
##
 
About Golden Gate National Recreation Area:
Golden Gate National Recreation Area, situated in and around San Francisco, is the most visited park in the National Park Service, hosting more than 15 million visitors in 2018. A diverse park with abundant recreational opportunities, as well as natural, cultural, and scenic resources, it encompasses more than 82,000 acres across three counties. The park also administers two other NPS areas, Fort Point National Historic Site, a Civil War era fortress built on the northernmost point of land in San Francisco, and Muir Woods National Monument, which comprises an impressive stand of old-growth coastal redwoods in Marin County.

About Indians of All Tribes:
The purpose of Indians of All Tribes is to educate Indians and non-Indian supporters and friends about the history and development of Indian tribes and their peoples throughout the Americas from Alaska to South America.

This instruction focus on Indian life and the impact of the government action on Indian self-determination by forced assimilation, as well as, current issues that affect Indians from environmental issues, women's issues, poverty, suicide, and issues related to educational development. 

About the Golden Gate National Parks Conservancy:
The Golden Gate National Parks Conservancy is the nonprofit membership organization that supports the Golden Gate National Parks—the most-visited unit in the national park system in the U.S. Since 1981, the Parks Conservancy has provided over $550 million in aid for site transformations, habitat restorations, research and conservation, volunteer and youth engagement, and interpretive and educational programs. Learn more at parksconservancy.org or call (415) 561-3000.

More About Alcatraz Cruises: 
Alcatraz Cruises is the National Park Service concessioner of ferry service to Alcatraz Island in San Francisco Bay. Alcatraz Cruises hosts over 1.7 million visitors annually. Alcatraz Cruises designed, built and operates the first hybrid ferry in the United States. The Hornblower Hybrid's revolutionary design has reduced fuel consumption by 75% and has already begun to be implemented in other parts of the country. For more information visit: www.alcatrazcruises.com/press-media.
Last updated: November 14, 2019