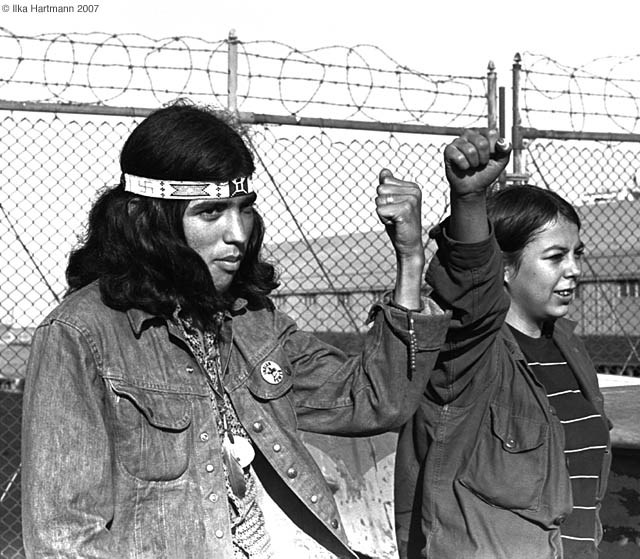 The Alcatraz Indian Occupation
by Dr. Troy Johnson, Cal State Long Beach
European discovery and exploration of the San Francisco Bay Area and its islands began in 1542 and culminated with the mapping of the bay in 1775. Early visitors to the Bay Area were preceded 10,000 to 20,000 years earlier, however, by the native people indigenous to the area. Prior to the coming of the Spanish and Portuguese explorers, over 10,000 indigenous people, later to be called the Ohlone (a Miwok Indian word meaning "western people"), lived in the coastal area between Point Sur and the San Francisco Bay.
Early use of Alcatraz Island by the indigenous people is difficult to reconstruct, as most tribal and village history was recorded and passed down generation-to-generation as an oral history of the people. A large portion of this oral history has been lost as a result of the huge reduction of the California Indian population following European contact and exploration. Based on oral history it appears that Alcatraz was used as a place of isolation or ostracization for tribal members who had violated a tribal law or taboo, as a camping spot, an area for gathering foods, especially bird eggs and sea-life, and that Alcatraz was utilized also as a hiding place for many Indians attempting to escape from the California Mission system.
Once Alcatraz Island became a prison, both military prisoners and civilians were incarcerated on the island. Among these were many American Indians. The largest single group of Indian prisoners sentenced to confinement on Alcatraz occurred in January 1895 when the U.S. government arrested, tried and shipped nineteen Moqui Hopi to Alcatraz Island. Indian people continued to be confined as prisoners in the disciplinary barracks on the island through the remainder of the 1800s and the early 1900s.