Fees & Passes
Overview of entrance requirements
Most visitors need
Parking/Transportation

Parking, shuttle, or other transportation-related fees may apply.
Entrance Passes
An entrance pass is not required to access Golden Gate National Recreation Area.
Other National Park Service sites may require an entrance pass or fee. Depending on your trip plans, an interagency pass may save you money.
Muir Woods is the only location in the park that requires an entrance fee of $15 per person (Ages 16+). Alcatraz has a fee for the ferry. For ferry fee info visit the link below. www.cityexperiences.com/san-francisco/city-cruises/alcatraz/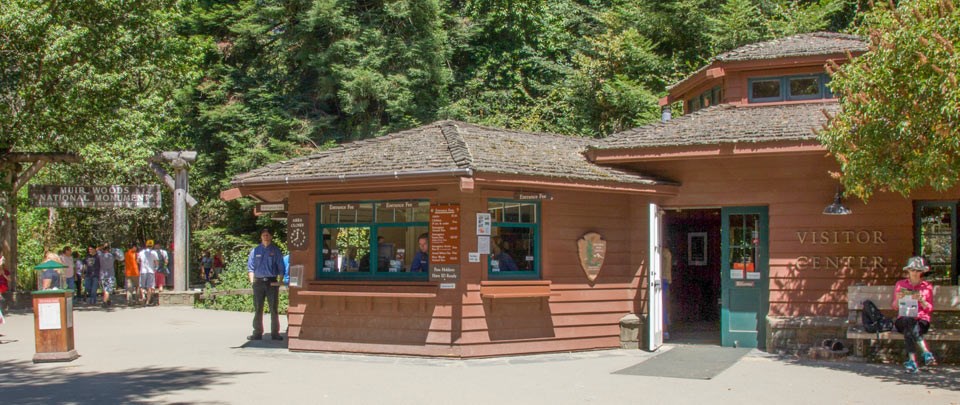 National Parks & Federal Recreation Lands Passes
(including Senior Pass)
These passes provide free access to national parks and national wildlife refuges that charge entrance fees. A pass is your ticket to more than 2,000 federal recreation sites. Each pass covers entrance fees at national parks and national wildlife refuges as well as standard amenity fees at national forests and grasslands, and at lands managed by the Bureau of Land Management and Bureau of Reclamation.
On Aug. 28, 2017, the price of the lifetime America the Beautiful –
The National Parks and Federal Recreational Lands Senior Pass
– will increase for the first time since 1994. Learn how to
purchase a lifetime Senior Pass and find out about the price changes
coming Aug. 28.
Entrance Fees
The Federal Lands Recreation Enhancement Act (FLREA), authorizes Recreation Fees to be charged within the Golden Gate National Recreation Area. Eighty percent of the money is retained in the park and makes possible important visitor service and resource protection projects. Without you, the visitor, these improvements would not be possible. All FLREA passes are issued and accepted at Muir Woods National Monument. Please note, these passes do not apply at Alcatraz Island, which does not charge an entrance fee. The cost of the ferry ticket is not an entrance fee—there is no charge to visit the grounds of Alcatraz Island.
Reserving Tickets for Alcatraz Island
Ferries provide transportation to both Alcatraz Island. One ferry ticket provides access to the island. Alcatraz City Cruises is the official ferry service provider. Purchasing tickets through vendors other than Alcatraz City Cruises may result in unnecessary additional charges. All private vessels are prohibited from docking on the island.

The National Park Service recommends purchasing tickets prior to the day of your visit. You may use one of these methods to reserve tickets:
Online: www.alcatrazcruises.com
By Telephone: 1-415-981-ROCK (1-415-981-7625)
In Person: At the Pier 33 at the cross streets of Bay Street and Embarcadero in San Francisco.
Prices vary with tour package.
Muir Woods National Monument
Entrance fees may be purchased in advance with your reservation via
GoMuirWoods.com
or upon arrival to the park. Entrance fees may also be covered by annual passes. Please visit the
Fees and Passes
page for more information.
Presidio of San Francisco
Battery East parking lot - Fees collected daily 8 a.m. to 6 p.m., $3/hour and $10/day.
West Bluff parking lot - Fees collected daily 8 a.m. to 6 p.m., $3/hour and $10/day.
Parking is available throughout the Presidio. Most parking areas are regulated by by either the Golden Gate National Recreation Area or the Presidio Trust. Regulations may vary in different areas of the Presidio. When parking, always follow posted regulations. For more information on the paid parking managed by the Presidio Trust see http://www.presidio.gov/transportation/driving-and-parking
Other Golden Gate National Recreation Area Sites
FREE
Special Park Uses
Some outdoor activities require a special use permit. These activities include getting married in the park, having a picnic with more than 50 people, commercial filming and photography, and athletic contests such as triathlons. To find out more, visit our special use permit page.
Last updated: May 11, 2023