50 Years of Golden Gate National Recreation Area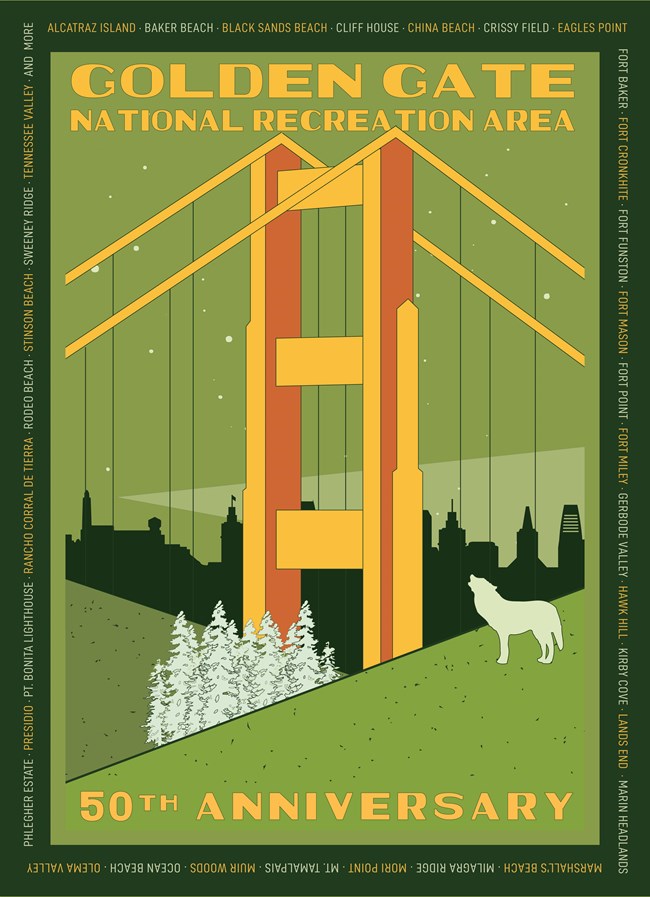 A Park for the People
"You see the landscape as it was 50 years ago, and as it will be 50 years from now."
Golden Gate National Recreation Area was established on October 27, 1972
The park welcomes over 15 million visitors a year across its more than 82,000 acres of coastal and urban lands, north and south of the Golden Gate Bridge. It includes: Alcatraz Island, the site of a 1969 protest which began the American Indian Civil Rights Movement; Crissy Field and the Marin Headlands, which offer iconic views of the Golden Gate Bridge and city; The Presidio of San Francisco, where military landmarks cross more than 200 years of history and Presidio Tunnel Tops, our newest park site has opened; and our newest addition in San Mateo County, Rancho Corral de Tierra.
1972 - 2022: Honoring Park Lands for the People
These lands are the ancestral home of the Ramaytush Ohlone and Coast Miwok people. Over 50 years ago, people from broad backgrounds partnered with organizations, neighborhoods, and government to create the Golden Gate National Recreation Area. Today, non-profit and tribal partners, schools, youth, volunteers, and community members shape and enrich our shared park experiences. Much has changed since the park was founded. During this celebration, we want to engage communities in new ways as we highlight our work to protect fragile ecosystems and combat climate change. This year, and always, GGNRA prioritizes transformative experiences that help visitors understand and reimagine our world. Join us as we celebrate the power of people and encourage the next generations of responsible park stewards.
Upcoming Events
A variety of activities will occur in Golden Gate and surrounding gateway communities throughout 2022 - 2023. Browse our list of anniversary efforts below, follow us on social media and use #GOGA50. Details will be added and updated throughout the year, so check back often! Click here for our special events calendar.

Golden Gate National Recreation Area closely monitors and responds to the COVID-19 pandemic. To prevent the spread of COVID-19, the park may modify in-person activities. This may change as the year progresses.
---
The Presidio Visitor Center
Every 3rd Sunday | November 20, 2022 - October 2023
This half-mile, level walk shows the historical changes to the Presidio, from the Spanish fort all the way to the new Tunnel Tops. Who benefitted from these changes, and who did not? 81a340
Parkwide 50th Anniversary Clean-Up
Project locations vary throughout the GGNRA, Muir Woods, and Fort Point. Help us celebrate the 50th anniversary by rolling up your sleeves and giving the parks some TLC! Volunteers are the heart of GGNRA, so this is also a celebration of all the volunteers that have shared their time and care over the years to keep these special places healthy and thriving.
Sunday, October 30

Owl Prowl at Muir Woods
October 27th, 5:30-8:00pm
Whooo there! See and hear the Owls, observe the deer, ladybugs and more fauna of Marin. Hike along up the Camp Alice Eastwood trail led by volunteer, Steffn Bartschat. Registration Required.

Community "Fee Free Day: at Alcatraz"
Saturday, December 03, 2022
Alcatraz reveals stories of American incarceration, justice, and our common humanity. In celebration of 50 years, we invite you and your family to explore Alcatraz's history and natural beauty. In partnership with the Parks Conservancy, this event is available to local families and community groups. Registration is required.
Marincello Walk Marin Headlands | Saturday, February 11, 2023 Take an easy hike along the Miwok, Bobcat and Rodeo Valley trails to learn how close the Marin Headlands came to becoming a housing development. Please call 415-331-1540 to make a reservation. Evening Hike Program "Owl Wars" Muir Woods National Monument | Saturday, February 11, 2023 On this strenuous 5-mile dusk hike we will look and listen for the owls that call Muir Woods home. Registration is required, call the Muir Woods office during business hours (8 am - 5 pm) to reserve your spot.

October 2022 - August 2023
Get to know your parks. Take this virtual scavenger hunt about three unique Recreation Areas: Glen Canyon and Gateway. Enter your completed worksheet to receive a special prize (while supplies last).
---
October 27, 2022 - March 21, 2023

A classroom art contest to celebrate the 50th anniversary of Golden Gate National Recreation Area. Local 4th grade classrooms in Title 1 schools are eligable to enter. Address the contest theme with originality and creativity: one piece of art per classroom can be entered. The contest winners has been announced.


To commemorate this important year and continue the capture of the park's history the GGNRA's Museum Program is reinvigorating its Oral History Program. People have made this park a success and these oral history interviews will celebrate the power and contributions of those people.
---
December 2022 - August 2023
Presidio Visitor Center, Main Post
An exhibit that celebrates the past, present and future of this unique national park. Encompassing centuries of overlapping cultures, and history - Golden Gate is home for many. Take a look back at where it all began; where it is today, and what's next. Features photography from GGNRA's Volunteer Photographers and Park Archives.

Check out the exhibit and get your special edition 50th Anniversary passport stamp
---
---
Member of the media? or interested in writing about Golden Gate National Recreation Areas's 50
th
Year?
---
Last updated: August 9, 2023