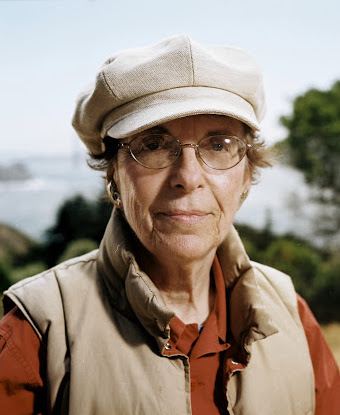 Significance:
Founder of GGNRA, Co-Chair People For A Golden Gate National Recreation Area (PFGGNRA)
Place of Birth:
New York City
The "Mother of the Golden Gate National Recreation Area," Amy Meyer is a Bay Area conservationist who helped forge local and national support to preserve the land at the Golden Gate as a national park in the 1970s. An artist and former teacher, she is a graduate of Oberlin College and California College of Arts & Crafts
In a time when the population and growth of the San Francisco Bay Area was increasing rapidly, there was also growing concern for the environment and the need to have open space available to local urban populations. Corporations were seeking to build new developments in the Marin Headlands and highways were proposed to run through wild ridgelines in San Mateo County.
Living in San Francisco's Richmond District at the time, Amy Meyer was "looking for a small community project" in 1970 when she heard about a neighborhood effort to stop the development of a small parcel near her home. In January 1971, Meyer took action. She helped form a coalition of park advocates, People for a Golden Gate National Recreation Area, becoming co-chair of the group alongside wilderness advocate, five-time Sierra Club President Ed Wayburn. Advocacy groups such as the People for a Golden Gate National Recreation Area, Headlands, Inc., and the later Peninsula Open Space Trust, along with U.S. Congressman Phillip Burton sought to block construction and development of open outdoor spaces.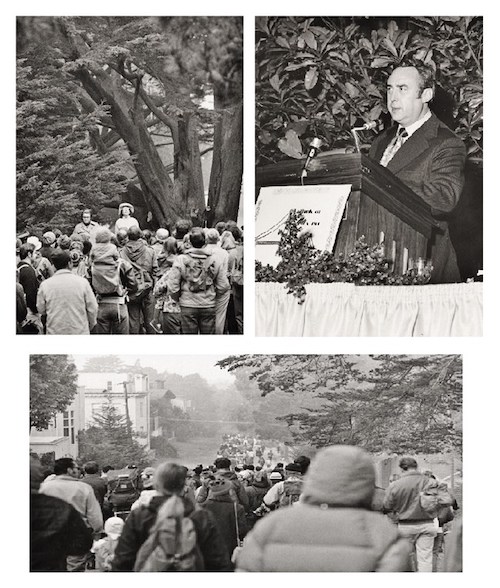 Top left: Amy Meyer welcoming hikers to the Presidio, 1971. Top right: Congressman Phillip Burton at a PFGGNRA luncheon, 1972. Bottom: Sierra Club hike at the Presidio, 1971. Park Archives, GOGA 35304

Thanks to their persistent grassroots efforts Golden Gate National Recreation Area was established on October 27, 1972. With the GGNRA the National Park Service was breaking new ground, never before had an open space unit been so close to such a densely populated area and neither had this level of public involvement come into the creation of a national park area. Once the park was established, a Citizen's Advisory Commission was appointed to assist and recommend future actions, to filter and organize the wants and needs of the population.
 
"The people out here since the Gold Rush have said, 'This is a gorgeous place and we've got to save it.' San Francisco began protecting its beaches in the 1870s. Muir Woods became a National Monument in 1907. Mount Tam was protected beginning in the 1920s. There's a tradition, an attitude about this beautiful place that we've got to keep it whole. But there's also a saying that goes, 'All of our gains are temporary, all of our losses are permanent.' So we have to keep watching out and working all the time to protect these natural and cultural treasures." - Amy Meyer

Although Meyer says the original concept called for an "8,000-acre park", almost 50 years after the original legislation, the park is over 80,000 acres of overlapping history and biodiversity north and south of the bay. Amy Meyer has devoted more than 38 years to the creation and preservation of the park. She is the author, in collaboration with Randolph Delehanty, of "New Guardians for the Golden Gate", which details how the people of the Bay Area and their legislators protected the Golden Gate as parklands for public use. Meyer is still co-chair of People for a Golden Gate National Recreation Area, and is the former vice chair of the GGNRA and Point Reyes National Seashore Advisory Commission. She was appointed by President Clinton as a founding board member of the Presidio Trust and is currently chair of People for the Parks/Presidio.
Widely recognized for her work, she has earned awards from San Francisco Tomorrow, National Parks Conservation Association, Sierra Club, local and state government officials, and many others. Today, millions of people enjoy and visit Golden Gate National Recreation Area annually, named one of the most visited units in the National Park Service.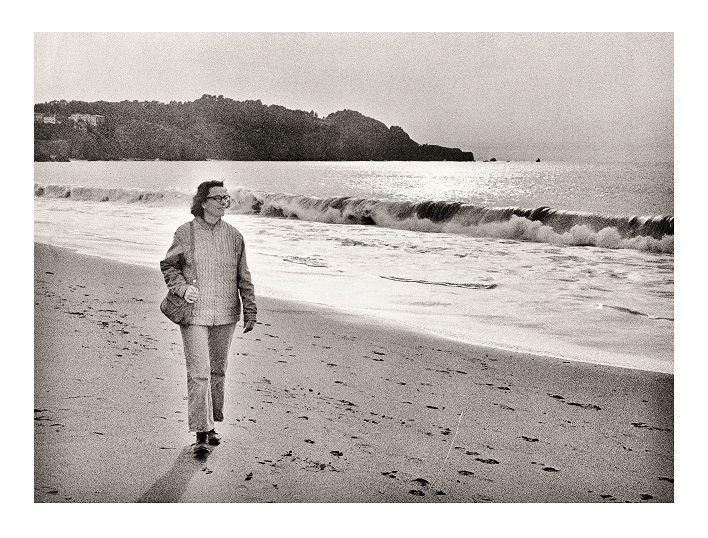 Amy Meyer walking on Baker Beach, 1973. Park Archives, GOGA 35304
Last updated: September 3, 2020