Exploring Bartlett Cove
Here, just 200 years ago stood the snout of a 100-mile long glacier. Though icebergs no longer dot the waters of Bartlett Cove, the animals, plants, and landscape continue to change after the recession of this great glacier.
There are many ways to explore Bartlett Cove. You may wish to investigate the area on your own, with a small group, or as part of a Ranger Naturalist guided hike or talk. Whatever the method, the beauty of Bartlett Cove and the events that took place here are well worth discovering.
Wondering how to get here? Bartlett Cove can be accessed by boat or plane via the town of Gustavus. Most visitors travel to Gustavus by airplane or ferry, learn more on our directions page.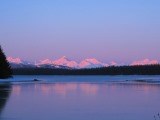 Glacier Bay Webcams
Enjoy the live view of the Inner Lagoon, Fairweather Range, and Public Dock!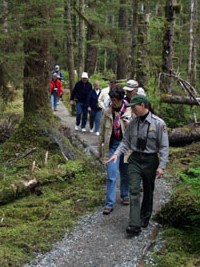 Walk the Forest Trail
Go on your own or with a park ranger. Daily ranger-led walks meet in front of the lodge front doors and depart at 1:30 PM for a 90 minute walk. If taking a walk on your own time, don't forget to download the official NPS app* to your smartphone where a self-guided tour is available for the "Forest Loop Trail". *Wifi is available at the Visitor Information Station and at the Lodge, you may need to inquire at these locations for a password.
If you are able to walk a mile at home, this trail should be easy. There are a couple of benches along the way. The trail winds through a pond-studded spruce/hemlock forest for one half mile, then descends to the beach.
Dress for the weather and wear good walking shoes that can deal with a little mud if you encounter some along the way.
Visitor Center
On the second floor of the Glacier Bay Lodge, you will find the park Visitor Center open daily from 6 AM to 10 PM with a variety of exhibits that explore the natural and cultural wonders of Glacier Bay. Books and educational materials from Alaska Geographic are available for purchase.
Join a park ranger at the upstairs desk between 11 AM and 1 PM to ask questions or buy items from the Alaska Geographic bookstore.
Visit Xunaa Shuká Hít, The Huna Tribal House
In 2016, Bartlett Cove was forever transformed with the completion of the Huna Tribal House. A long awaited dream, Xunaa Shuká Hít stands proudly on the shoreline of Bartlett Cove. It is a place of discovery and re-connection. Stop by and admire the carved totems and house screen. Regular visitor hours during the summer months and cultural interpretive staff/programs provide opportunities for you to discover the spectacular interior screen and 4 house posts that represent the stories of the Glacier Bay clans.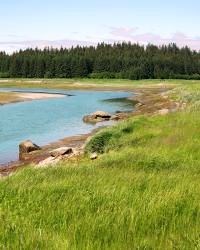 Explore the Shore
Walk on your own along a one mile shoreline trail or just head down to the sandy beach to explore. Look for intertidal life. Perhaps you'll hear the blows of a humpback whale, or have a curious harbor seal follow you. A wide variety of wildflowers bloom in this coastal zone during the summer months. The beach is a great place to find a vantage point to watch for birds. Look for land, shore and sea birds in the Cove. Don't forget to take your camera.
If you have a half-day:
The Bartlett River Trail meanders five miles round trip (from the Glacier Bay Lodge) along an intertidal lagoon, through the forest, then emerges and ends at the Bartlett River estuary. Ducks, geese, and other water birds concentrate during migrations and molting in intertidal areas. Watch for coyotes and bears along the beach, and porcupines and red squirrels in the forest. Salmon run upriver during the latter part of the summer. The trail is not difficult but has a few muddy spots during rainy periods.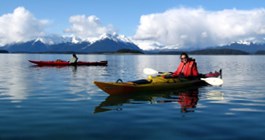 Go for a Paddle
Sea kayaking is a popular way to experience the wilderness of Glacier Bay. There are several options for day kayaking around Bartlett Cove. Take a guided kayak trip or rent a kayak and paddle your own. Experience Glacier Bay up close. You never know what you might see! Visit our kayaking webpage for more info.
Glacier Bay Sea Kayaks provides guided day kayaking and daily kayak rentals out of Bartlett Cove.
If you have a full day:
Take the daily tour boat up-bay. This all-day boat trip up to the glaciers should not be missed! Wildlife and calving glaciers are highlights. Binoculars, extra photo storage and warm clothing are highly recommended.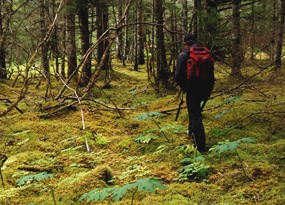 Hike to Bartlett Lake
This 8 mile trail is less maintained so use caution. The peacefulness of the hike and the beauty of the lake are well worth the trip. On this full day journey, water, lunch and rain gear are essential items.
Looking for a fun day hike? Join Ranger Sarah and learn why the Bartlett Lake Trail may be your perfect choice.

Duration:

5 minutes, 47 seconds


Last updated: September 8, 2022