Join a Park Ranger and Tribal Interpreter

Summer 2023 Daily Interpretive Activities
May 27 through September 3
Enjoy programming at two locations in Bartlett Cove:

Glacier Bay National Park Visitor Center
Upstairs in the Glacier Bay Lodge, the ranger desk will be open:
Daily 11 AM to 5:30 PM
Phone: 907-697-2661
Park rangers are on duty to help you get the most out of your visit.
Park information, Alaska Geographic books and sales (credit card only), reading area, kid's corner, maps and more.
Exhibits are open while lodge remains open: 6 AM to 10 PM.

Xunaa Shuká Hít (Huna Tribal House)
Located along the shoreline trail just past the Glacier Bay Lodge.
Open daily* 1 - 5 PM, 6:30 - 8:15 PM
Beginning May 27, park rangers will be available at the Tribal House during the above hours. Starting June 10, tribal interpreters will begin offering programs alongside National Park Service Rangers.
*Note: Xunaa Shuká Hít (The Huna Tribal House) will be closed for a school event on June 8th & 9th.
Discover the beauty and significance of this building, a collaborative effort between the National Park Service and Hoonah Indian Association. Visitor hours may be altered to accommodate special events and Tribal/NPS uses, as well as to account for staffing shortage due to Covid-19 challenges.
1:30 PM Guided Walk: Forest Loop Trail (90 min) Location: Meet on the front steps/porch of the Glacier Bay Lodge.
Daily: Walk with a ranger to track the "footprints" left by a glacier and discover hidden stories of Glacier Bay's forests and shore. One mile; easy. (Limited capacity) You may also enjoy a self-guiding walk on your own at any time with the free downloadable NPS App. (https://www.nps.gov/subjects/digital/nps-apps.htm)

1 - 4 PM Tlingit Traditions Location: Xunaa Shuká Hít
Thursday / Friday / Saturday / Sunday:
Drop in to meet a tribal interpreter demonstrating various cultural traditions.

4:15 PM Cultural Films (30 min) Location: Xunaa Shuká Hít
Daily: Watch one of our new collaboratively produced films highlighting Huna Tlingit way of life.

7:00 PM Evening Programs At Xunaa Shuká Hít Doors open at 6:30 pm. Program starts promptly at 7 PM. Building closes at 8:15 pm.
Thursday / Saturday / Sunday:
Huna Tlingit Traditions (Approx. 45 min)
Join a tribal interpreter and explore Glacier Bay Homeland from a traditional perspective. Program topics vary nightly.

Monday / Tuesday / Wednesday / Friday:
Ranger Evening Program (Approx. 45 min)
Join us for a deep dive to explore something special about Glacier Bay. Topics vary nightly1.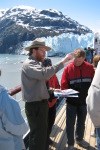 Trips up the Bay
Glacier Bay Park rangers are also onboard all cruise ships and tour boats to answer questions, interpret the scenery, history, and spot wildlife. They will spend the day aboard to help you appreciate the wonders of your national park.
Last updated: May 24, 2023