Xunaa Shuká Hít - The Huna Tribal House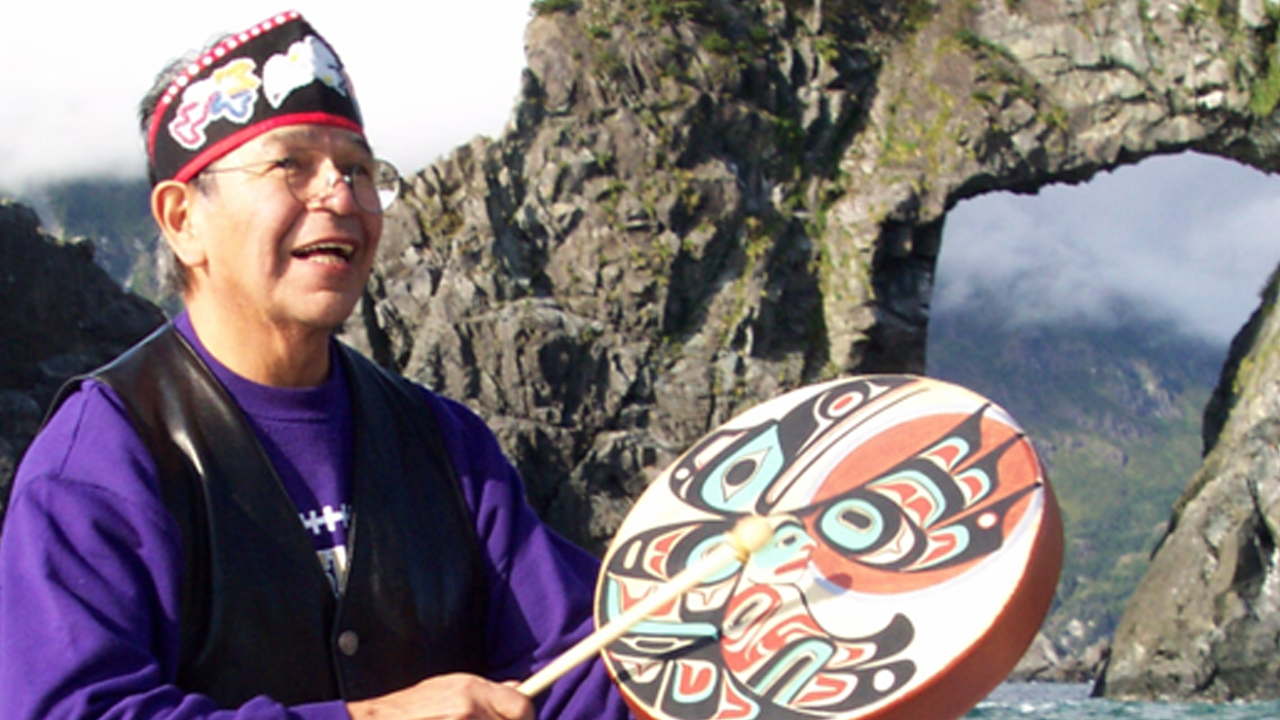 Discovering the Essence
Glacier Bay as Homeland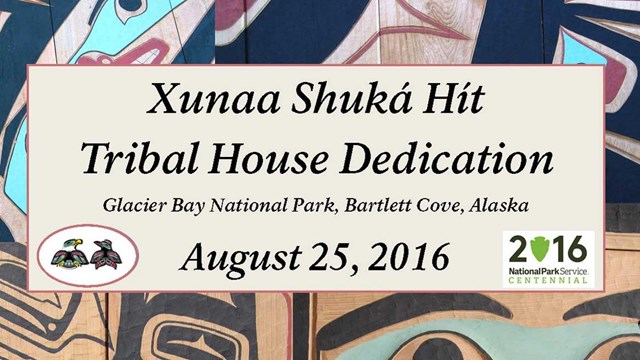 Tribal House Dedication
Learn about this special day, experience the excitement and significance of the 2016 Return to Homeland event.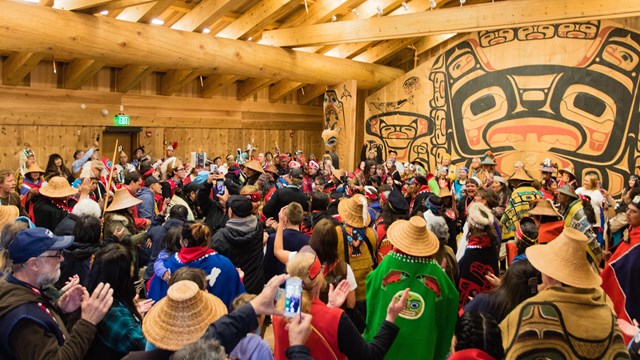 Tribal House Media Gallery
Enjoy images and videos of construction, planning, and dedication of the Tribal House and totem poles.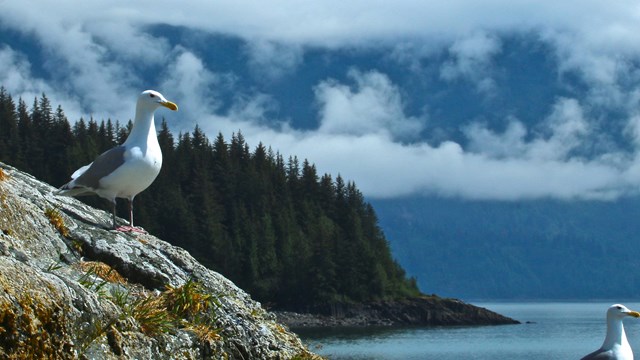 Tlingit Gull Egg Harvest
Learn more about this sustainable reoccurring harvest.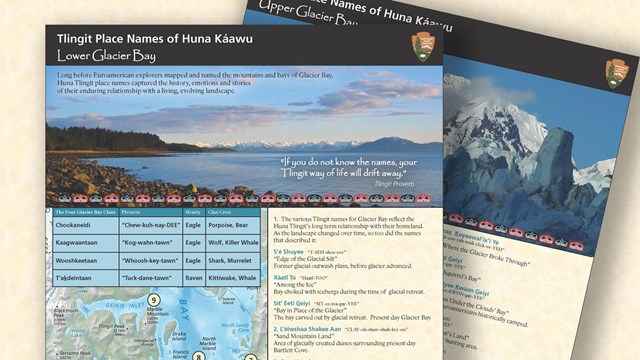 Place Names of the Huna Kaáwu
Huna Tlingit place names captured the history, emotions and stories of their enduring relationship with a living, evolving landscape.

Visit our keyboard shortcuts docs for details
Duration:

4 minutes, 54 seconds
Everyone is welcome to Xunaa Shuká Hít, the Huna Ancestors' House, a gathering place where tribal members, park visitors, and the National Park Service are inspired to learn about and preserve Tlingit history, culture, life ways, and traditions.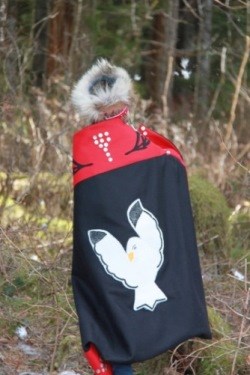 Eagle down, released from the fingertips of Tlingit children, drifted through the forests of Bartlett Cove during a groundblessing ceremony for the recently completed Huna Tribal House. Tribal elders, supported by their cultural nephews spoke traditional words of welcome and thanked the towering trees for offering their lives in aid of the planned 2,500 square foot cedar structure. Xunaa Shuká Hít—roughly translated as "Huna Ancestor's House"—is the first permanent clan house in Glacier Bay since Tlingit villages were destroyed by an advancing glacier over 250 years ago. A long awaited dream, it is a gathering place where tribal members can reconnect with their treasured homeland through ceremonies, workshops, camps, tribal meetings and other events. It also provides park visitors with opportunities to learn about Huna Tlingit history, culture, and life ways. The Hoonah Indian Association (HIA) and National Park Service (NPS) have worked closely with a team of clan leaders, craftsmen, planners, architects, and cultural resource specialists to design a building that reflects traditional styles but meets the needs of contemporary tribal members as well as park visitors. The focal point of the Tribal House is a large open gathering area with a central fire pit, but modern amenities including utilities, a small kitchen for preparing native foods, dressing room for dancers and performers, and detached restrooms have been incorporated in the design.
The design is based on accounts and photographs from the historical and ethnographic records. These ingenious buildings had gabled roofs held up by four interior posts that supported two massive horizontal beams upon which the rest of the roofing members rested. The walls and floors were of thick, adze finished planks. Inside were square pits, about 25 feet to a side and about 4 feet deep, where daily life circulated around a central hearth. They traditionally housed extended families and a cluster of houses would comprise a clan's winter village. Multiple clans would reside together, and legends tell us that the principal pre-Little Ice Age village of the four Huna clans was located in what is now Bartlett Cove.

The "Return to Homeland" event took place August 25, 2016 coinciding with the 100th Anniversary of the National Park Service.

Project Background briefing sheet provides more information on this collaborative project and status.

The elders longed for a place where ancestral wisdom could be held and shared. In this short Cultural Welcome video, they offer you a traditional welcome to Xunaa Shuká Hít's treasured space: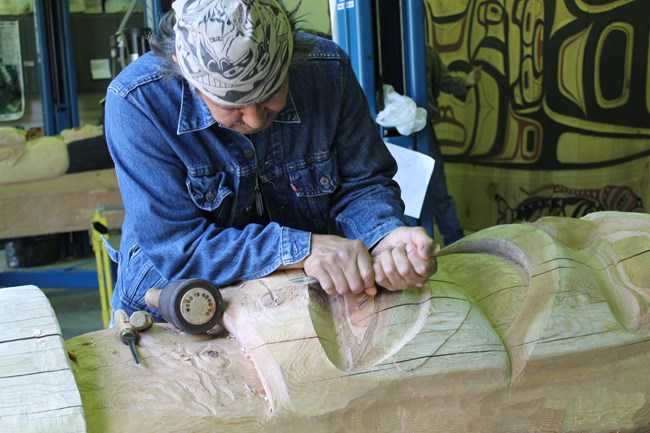 Glacier Bay National Park is the ancestral homeland of the Huna Tlingit clans who sustained themselves for centuries on the abundant resources of the land and sea. Although villages inside the Bay were overrun by the Little Ice Age glacial advance of the 1700's, the Huna Tlingit re-established numerous fish camps and several villages in Glacier Bay soon after glacial retreat. The Huna Tribal House memorializes the clan houses that once lined the shores of present day Bartlett Cove, now the site of National Park Service headquarters in Glacier Bay. The project also provides an opportunity to revitalize Tlingit artistic traditions. Through a cooperative agreement between the tribal government and NPS, master craftsmen have trained a cadre of local apprentices and students in traditional Tlingit art and design, carving, adzing, and spruce root weaving. Over seven years, carvers have crafted and installed the elaborately carved and painted cedar panels that adorn the house front, four richly detailed interior cedar house posts and an interior house screen which depicts the stories of the four primary Huna Tlingit clans. Raven and Eagle totems were completed and installed in 2017 as well as the Healing Pole in August 2018. These precious cultural elements impart spiritual value to the Tribal House and its surroundings, but as importantly, their design and completion has expanded the circle of tribal members who share in cultural knowledge.
The Tribal House serves as a box of knowledge to learn about Tlingit culture as well as for Tlingit communities and organizations to offer cultural workshops on topics such as Native art, woodworking, weaving, song and dance, healthy living, and more.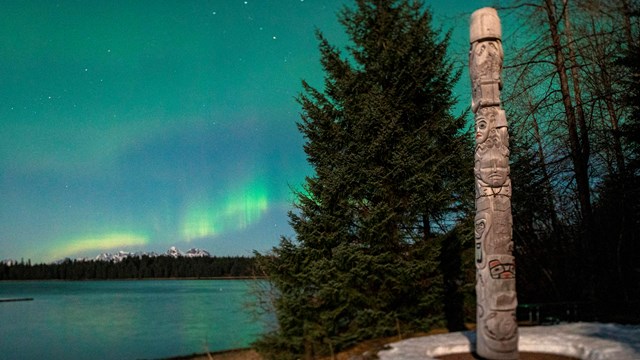 The Glacier Bay Healing Totem Pole
The Healing Totem Pole tells the at time fraught, more recently productive, history between the Huna Tlingit and the National Park Service.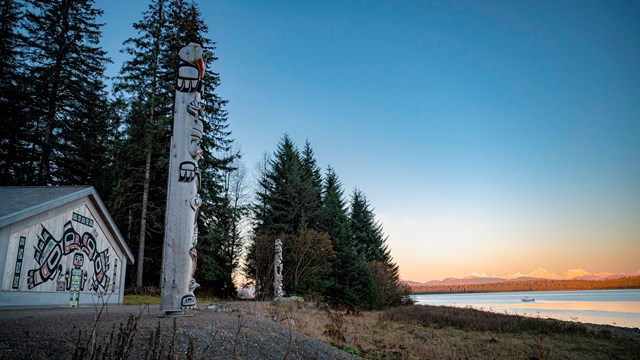 The Raven and Eagle Totem Poles
The Raven and Eagle Totem Poles stand proudly in front of Xunaa Shuká Hít.
Last updated: September 7, 2022