Glacier Bay Lodge
Covid-19 Update:


The Glacier Bay Lodge is scheduled to open in 2022! We are in the early planning stages and updates should be rolling out over the first few months of 2022.
Please be aware that many Covid-19 safety precautions have been put into place for all guests' safety. Face masks are required on NPS-administered lands where physical distancing cannot be maintained and in all NPS buildings and facilities. Read more on the lodge website.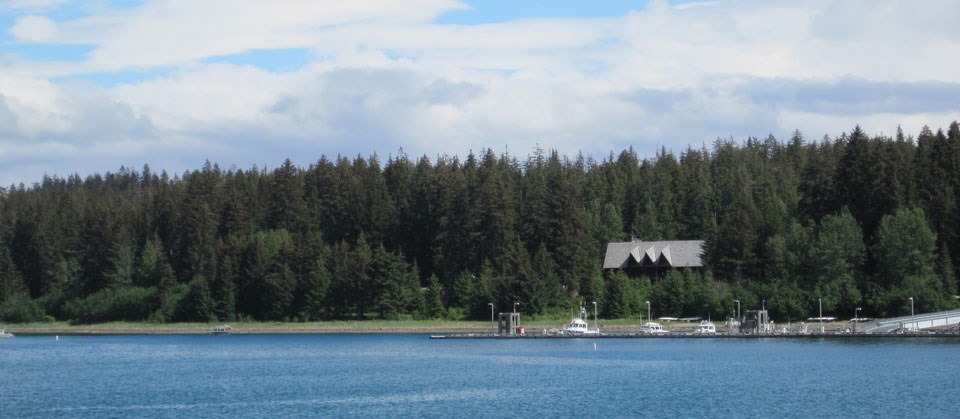 The Historic Glacier Bay Lodge and Glacier Bay National Park and Preserve Visitor Center
Open each summer, typically from memorial day to labor day.
Lodge hours: 24 hours/day in season
Visitor Center hours: 11 am to 4:30 pm
The Glacier Bay Lodge is located in Bartlett Cove, 10 miles by road from the small town of Gustavus. Alaska Airlines and air taxis make daily flights from Juneau to Gustavus. The Glacier Bay Lodge offers rooms, a restaurant, fabulous wilderness views, a daily tour boat, fishing, kayaking, hiking, and fuel sales.

How to get to the lodge? Read our directions page for more info.
The lodge operates a shuttle bus to transport guests between the lodge and the Gustavus airport. Additionally, there are taxi services available in Gustavus (Check the Gustavus Visitors' Association's "Getting Around Gustavus" page) to transport you between the town of Gustavus and Bartlett Cove.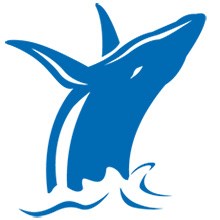 For reservations and more info, contact:
Glacier Bay Lodge & Tours
www.visitglacierbay.com
(866) 761-6634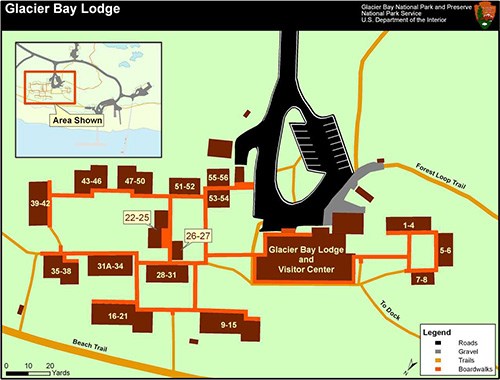 Glacier Bay Lodge Map/Diagram
Map of the lodge, showing main lodge, room layout and connecting boardwalks.
(Click the image to view larger)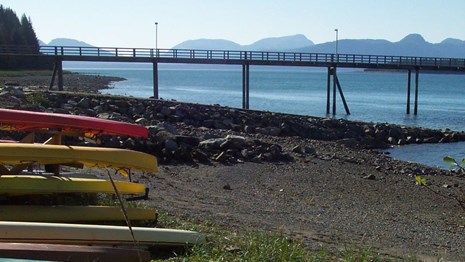 Explore Bartlett Cove
The Bartlett Cove developed area provides lodging, camping, hiking, and adventure in a rainforest setting
Last updated: January 13, 2022