Glacier Bay Lodge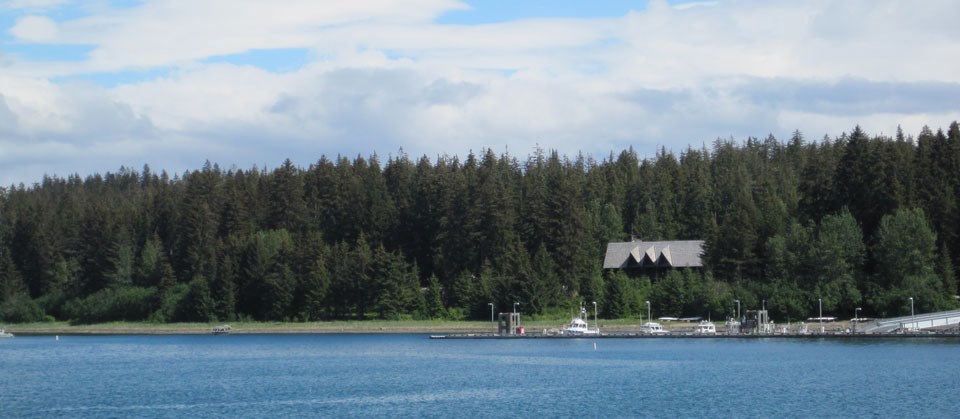 The Historic Glacier Bay Lodge and Glacier Bay National Park and Preserve Visitor Center
Open each summer, typically from memorial day to labor day.
Opening May 2024, check this spring for the summer's hours!
Lodge hours: 2024 hours TBD.
Lodge gift shop: 2024 hours TBD.
Visitor Center Desk staffed hours: 2024 hours TBD.
The Glacier Bay Lodge is located in Bartlett Cove, 10 miles by road from the small town of Gustavus. Alaska Airlines and air taxis make daily flights from Juneau to Gustavus. The Glacier Bay Lodge offers rooms, a restaurant, fabulous wilderness views, a daily tour boat, fishing, kayaking, hiking, and fuel sales.

How to get to the lodge? Read our directions page for more info.
The lodge operates a shuttle bus to transport guests between the lodge and the Gustavus airport. Additionally, there are taxi services available in Gustavus (Check the Gustavus Visitors' Association's "Getting Around Gustavus" page) to transport you between the town of Gustavus and Bartlett Cove.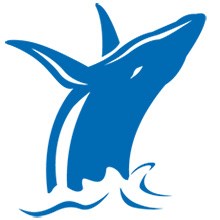 For reservations and more info, contact:
Glacier Bay Lodge & Tours
www.visitglacierbay.com
(866) 761-6634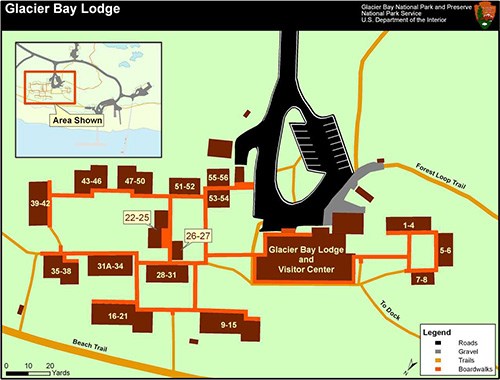 Glacier Bay Lodge Map/Diagram
Map of the lodge, showing main lodge, room layout and connecting boardwalks.
(Click the image to view larger)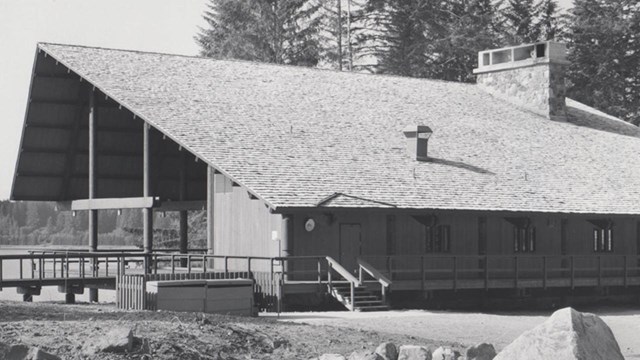 50 Years of Glacier Bay Lodge
Glacier Bay Lodge is a classic example of the NPS Mission 66 program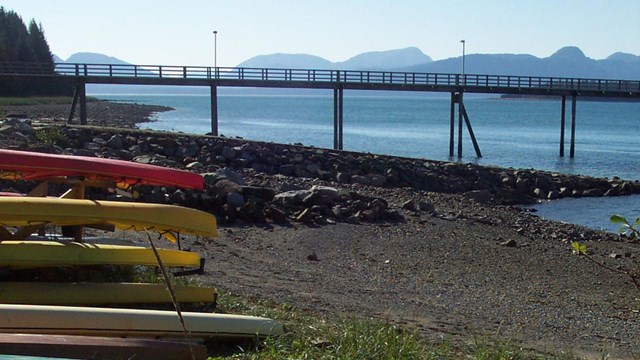 Explore Bartlett Cove
The Bartlett Cove developed area provides lodging, camping, hiking, and adventure in a rainforest setting
Last updated: November 28, 2023