Huna Tribal House - Aug. 25, 2016 Dedication
Visit our keyboard shortcuts docs for details
Duration:

28 minutes, 4 seconds
The grand opening of Xunaa Shuká Hít was a powerful day filled with the brilliant sights and sounds of joyous hearts celebrating the Huna Káawu's return to homeland. Hand-carved dugout canoes, spectacular regalia, Tlingit oratory, traditional ceremonies, rhythms of drums and dances, and an air of excitement made it a day to remember!
The Huna Tribal House Dedication was a significant event for both the tribe and National Park Service. Hand carved dugout canoes, spectacular regalia, Tlingit oratory, traditional ceremonies, rhythms of drums and dances, and an air of excitement and joy made it a day to remember! This short video will provide a glimpse of the many memories that were made on August 25, 2016.

Duration:

4 minutes, 14 seconds
On a cool, foggy morning in late August 2016, three traditional carved spruce canoes skimmed smoothly across the waters of Bartlett Cove. Twenty pullers spent hundreds of hours carving and painting paddles, practicing canoe maneuvers, and journeying some 40 miles to herald in the Huna Tlingit return to homeland. The canoe landing initiated a powerful day of ceremonies that blended Tlingit traditions old and new.

For countless generations, the Huna Tlingit sustained themselves on the abundant resources found throughout Glacier Bay prior to the Little Ice Age. Although villages inside the Bay were overrun by glacial advances in the 1700s, the Huna Tlingit re-established fish camps and seasonal villages soon after glacial retreat. Establishment of Glacier Bay National Monument in 1925 (and later National Park) and implementation of laws and park regulations led to a period of alienation and strained relationships between tribal people and the National Park Service (NPS).

Time and new understandings have brought much healing. In recent years, the NPS and Hoonah Indian Association (HIA), the tribal government, have worked cooperatively to reinvigorate traditional activities, develop cultural programs for youth and adults, amend regulations to allow for a broader range of traditional harvests in park boundaries, and preserve oral histories.

The most symbolic cooperative venture Xunaa Shuká Hít (roughly translated as Huna Ancestors' House) now stands proudly on the shoreline of Bartlett Cove. Working closely with a team of clan leaders, craftsmen, planners, architects, and cultural resource specialists, the building reflects a traditional architectural style reminiscent of ancestral clan houses, but suitable for the needs of the community today. The focal point of the Tribal House is a large open gathering area with a central fire pit, but visitor's eyes will also be drawn to the elaborately carved and painted house front, four richly detailed massive cedar interior house posts and an interior panel - or house screen - which depicts the stories of the four primary Huna Tlingit clans. In 2017, totem poles were installed to flank the building. These precious cultural elements impart spiritual value to the Tribal House, but as importantly, their design and completion has expanded the circle of tribal members who share in cultural knowledge. The 2,500 square foot structure will serve as a venue for tribal members to reconnect with their traditional homeland, life-ways, and ancestral knowledge; and a focal point for conveying the story of the Huna Tlingit to the visiting public.

To properly dedicate the house, traditional protocols were followed. The tree ceremony acknowledged the trees that provided the materials to build the house and canoes. A traditional naming ceremony breathed life into the house, and proclaimed to all that Xunaa Shuká Hít would serve as an anchor for past, present, and future generations. For their longstanding collaboration, the Park and HIA were presented with the NPS Director's Partnership Award. Superintendent Philip Hooge stated, "We stood together on each other's shoulders and we were able to reach high. That this symbol of diversity, inclusion and enhanced connections occurred on the 100th anniversary of the NPS is poignant as we step into the next century."

The celebration continued inside showcasing the four carved house posts, interior screen and a traditional marking of the house's four corners. As Hoonah students led songs, drumming, and dance, the entire building reverberated with excitement and energy celebrating a dream come true for many generations.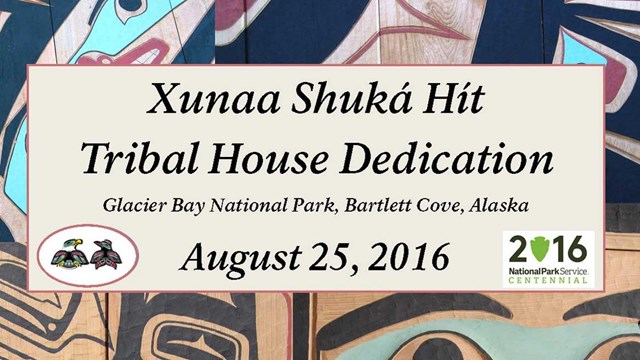 Tribal House Dedication
Learn about this special day, experience the excitement and significance of the 2016 Return to Homeland event.
Xunaa Shuká Hít
The symbolic cooperative venture between the Huna Tlingit and the National Park Service now stands proudly in Bartlett Cove.

Last updated: February 10, 2019