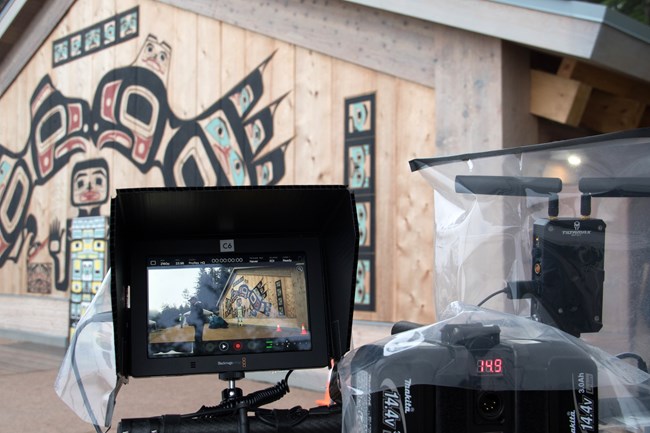 News Media Articles
May 31, 2017
Standing Tall in Bartlett Cove
Once again, the shoreline of Bartlett Cove in Glacier Bay National Park welcomed hundreds of tribal members and other visitors – this time to celebrate the raising of two totem poles in front of Xunaa Shuká Hít, Huna Ancestors' House.
Capital City Weekly
April 4, 2017
The Long Way Home
Opening a tribal house and closing a divide in Glacier Bay National Park and Preserve.
National Parks Magazine, Spring 2017
March 17, 2017
Hoonah youth club holds a culture camp in the Xunaa Shuká Hít
Eight Hoonah City Schools students spent three days at Tribal House as part of a successful culture camp.
August 31, 2016
Breathing Life Into a New Beginning
The Huna Tlingit return to their ancestral homeland.
August 24, 2016
Huna Tlingit Paddle Home
Dugout canoe pullers begin their journey to homeland for the August 25th dedication event.
August 24, 2016
Forty-one Weavers, One Robe
Used for the first time during the dedication ceremony of Xunaa Shuká Hít in Glacier Bay, Master weaver Clarissa Rizal and 40 Ravenstail and Chilkat weavers complete a robe that will be used to celebrate canoe gatherings and maiden voyages of new dugout canoes.
August 3, 2016
Hoonah Dugout Canoe a Success
The second steaming of two forty-foot dugout canoes is a success. The spruce dugouts will make their first voyage to Glacier Bay for the August 25th dedication of Xunaa Shuká Hít.
July 6, 2016
Hoonah Canoe Launch
The first of two dugout canoes goes out on it's maiden voyage.
May 25, 2016
Singing Our Way Back to Homeland
Hoonah youth exploring the park in their backyard, and reconnecting to their ancestral homeland. This project was funded in part by a grant from the National Endowment of the Arts. Students will be writing new songs to be shared at the grand opening of the tribal house this summer!
April 12, 2016
From a Log to a Dugout
Steaming open a 40-foot traditional Tlingit canoe.
March 16, 2016
Huna Tribal House Carvings
Raven totem carvers (Gordon, Owen and Herb) are highlighted again in the Capital City Weekly.
Story of Kasteen
Carvings depict the story of the departure of the Huna Tlingit.
Going Home
Master Carver Wayne Price inspires the community of Hoonah through a traditional canoe carving project. When completed the canoe will participate in the Return to Homeland event at the Tribal House in Bartlett Cove.
February 17, 2016
Returning to Homeland: The Xunaa Shuká Hít
Article for the 2016 Glacier Bay Visitor's Guide highlighting the Tribal House Project.
February 11, 2016
Xunaa Shuká Hít Nears Completion in Glacier Bay
Centuries after being forced out by advancing glacier, Huna clans prepare for ceremonial return.
April 2, 2014
Hoonah Carvers Make their Marks with Xunaa Shuká Hit (Glacier Bay Tribal House)
Carvers Gordon Greenwald, Herb Sheakley and Owen James share their journey creating carved elements for the Tribal House Project.