Accessibility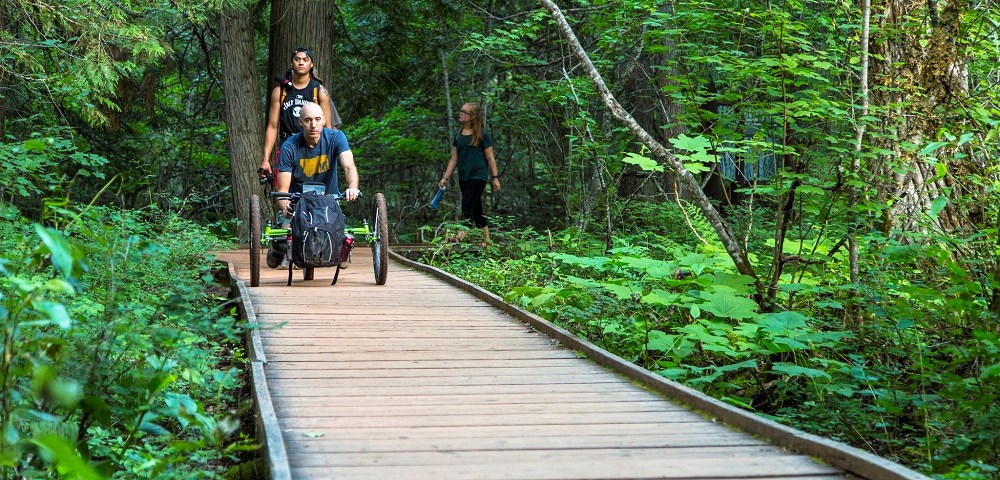 Everyone who visits Glacier can experience its diverse landscape by driving Going-to-the-Sun Road as it climbs thousands of feet and passes through dense forest, alpine meadows, and rocky cliffs. However, beyond this roadway, the park's spectacular mountain landscape can present challenges for visitors with special needs. Improvements in accessibility are being made each year, and with a bit of pre-planning, all visitors can find Glacier to be a rewarding experience.

The America the Beautiful National Parks and Federal Lands Access Pass provides a wide range of discounts on activities and services when you visit federal lands.

Please see Glacier's Accessible Facilities and Services brochure for a broad overview of accessibility information. The links below provide more detail concerning available accessible facilities and services.
Get information about accessibility in specific locations throughout the park.
Find videos and other resources designed for visitors with hearing disabilities.
Large print brochures, audio-described videos, and braille handouts are available
Learn about what qualifies as a service animal and relevant wildlife safety warnings..
---
Glacier Shuttle System
All park shuttles are ADA accessible. Visitors with a disability can access many destinations along Going-to-the-Sun Road by using the shuttle bus system.
---
Ranger-led Activities
Check bulletin cases and visitor centers for schedules in which physical/mobility accessible programs are marked with a symbol. All ranger programs strive to engage multiple senses and learning styles. If you require audio assistance, please let the ranger know in advance, as audio equipment may be available at certain venues. Drop by Apgar Nature Center for family-friendly, hands-on activities and displays. Groups may request a special program by contacting the park at least two weeks in advance.

Evening Program venues accessible to those with a mobility disability:
Apgar Campground Amphitheater
Fish Creek Campground Amphitheater
Lake McDonald Lodge Auditorium
Many Glacier Campground Amphitheater
Many Glacier Hotel Auditorium (Enter lower level to access)
Rising Sun Campground Amphitheater
St. Mary Visitor Center Auditorium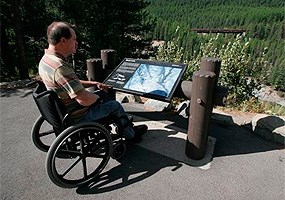 ---
The Disabled Traveler's Companion
A good place to look for information on accessibility is the Disabled Traveler's Companion Website. While not officially affiliated with the National Park Service, they have been working with Glacier and other national parks to provide valuable information to travelers with disabilities. Their website contains information on campgrounds, lodges, and park attractions that will aid in planning your trip.
Last updated: January 18, 2023