Accessibility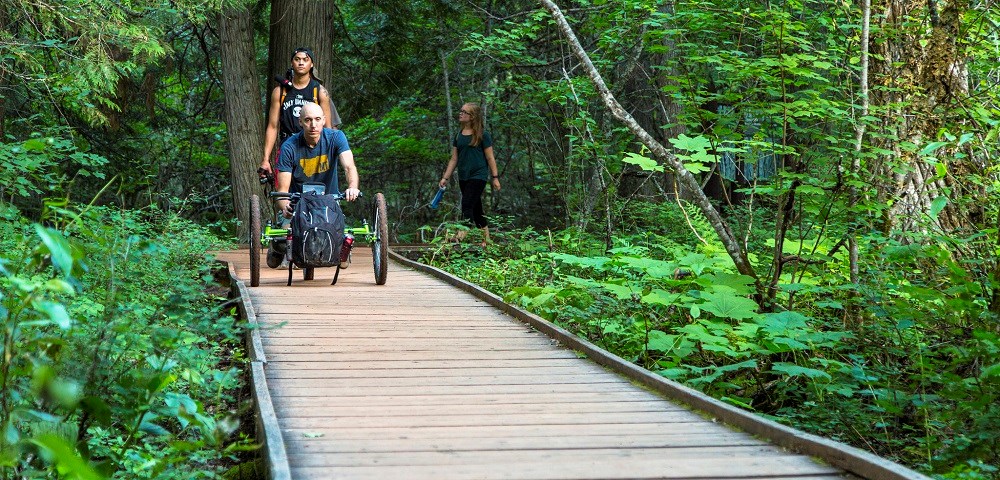 Glacier National Park is a spectacular mountain landscape that can present difficult challenges for visitors with special needs. Improvements in accessibility are being made each year. With a bit of pre-planning, all visitors can find Glacier to be a rewarding experience.
Glacier has a brochure available upon visit that highlights accessible facilities and services.
---
Get information about facility accessibility in specific locations throughout the park.
Find videos and other resources designed for visitors with hearing disabilities.
Glacier National Park produces large print brochures, audio described videos, and braille handouts for visitors needing vision assistance.
Service animals are allowed in national parks. See this page for information about what qualifies as a service animal and wildlife warnings.

---
Glacier Shuttle System
All Glacier shuttles are ADA accessible. Park visitors with a disability can access many destinations along Going-to-the-Sun Road while enjoying the spectacular scenery by riding on one of the parks's optional and environmentally-friendly buses.

---
Ranger-led Activities
Check the monthly Ranger-led Activities Schedule, in which physical/mobility accessible programs are marked with a symbol. All ranger programs strive to engage multiple senses and learning styles, and often include audio components and/or tactile objects. Drop by Apgar Nature Center for family-friendly hands-on, interactive activities and displays. Groups may request a special program by contacting the park, at least two weeks in advance.
Evening Program venues that are accessible
Apgar Campground Amphitheater
Fish Creek Campground Amphitheater
Lake McDonald Lodge Auditorium
Many Glacier Campground Amphitheater
Many Glacier Hotel Auditorium (Enter lower level to access)
Rising Sun Campground Amphitheater
St. Mary Visitor Center Auditorium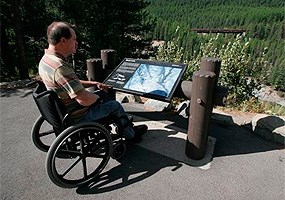 ---
The Disabled Traveler's Companion
Another good place to look for information on accessibility is the Disabled Traveler's Companion Website. While not officially affiliated with the National Park Service, they have been working with Glacier and other national parks to provide valuable information to travelers with disabilities. Their website contains information on and photographs of campgrounds, lodges, and park attractions that will aid in planning your trip to Glacier.
Last updated: June 18, 2021