Going-to-the-Sun Road General Info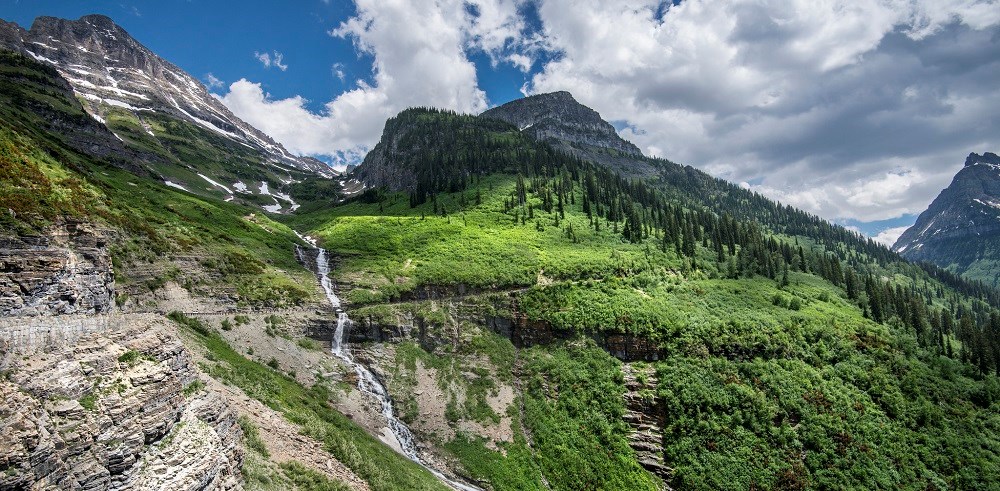 Open Season
The lower elevation sections of Going-to-the-Sun Road remain open all year and provide access to many locations and activities. The summer opening date of the alpine portion varies from year to year, based on snowfall and plowing progress. There is no set date for the road to open over Logan Pass. Typically, the road has been fully open by early July.

Portions of the road may close due to weather. It's typically fully open until the third Monday of October, but that may change due to weather conditions at any point.
To help you plan, check out past opening and closing dates. (60 KB pdf)
Plowing
Plowing Going-to-the-Sun Road is a monumental challenge each year. Unpredictable spring snowstorms, avalanches, or other weather-related events can slow down progress. It's common for work crews to need to re-plow sections of park roads when weather events happen. Safety for plowing crews, contractors, and the public is our utmost concern and priority. These unknown factors make predicting the precise opening date of Going-to-the-Sun Road impossible.
Our plowing and road status page provides information on where plows are working. You can also watch the action each spring through an annual Flickr album.

Vehicle Size Restrictions
Vehicles and vehicle combinations longer than 21 feet (including bumpers) or wider than 8 feet (including mirrors), are prohibited between Avalanche Creek and Rising Sun. Vehicles over 10 feet in height may have difficulty driving west from Logan Pass to the Loop, due to rock overhangs. Stock trucks and trailers can access Packers Roost from the west and Siyeh Bend from the east.
Bicycling
From June 15 through Labor Day, the following sections of the Going-to-the-Sun Road are closed to bicycle use between 11 am and 4 pm:
From Apgar turnoff (at the south end of Lake McDonald) to Sprague Creek Campground, both directions

Eastbound from Logan Creek to Logan Pass
Due to ongoing road rehabilitation on Going-to-the-Sun Road, portions of the roadbed may not be paved. Bicyclists should use extreme caution riding on gravel portions.
Speed Limit
For safety reasons, the speed limit is 40 mph on the lower elevations of the road and 25 mph on the alpine section. Be very careful around blind curves, as animals and pedestrians often cross the road unexpectedly.
By the Numbers
Without stopping, it takes approximately 2 hours to drive the full 50 miles of Going-to-the-Sun Road.
Logan Pass is the highest point on Going-to-the-Sun Road at 6,646 feet (2,026 m).
Logan Pass is 32 miles (51.5 km) from the west entrance and 18 miles (29 km) from the east entrance. The parking lot at Logan Pass is usually fills by sunrise and remains very busy throughout the daytime hours, though this can vary based on weather conditions.
Amenities
Gasoline is not available in the park. There is an electric vehicle charging station across from the Lake McDonald Lodge camp store.
Food and lodging can be found along the road at Rising Sun, Lake McDonald Lodge, and Apgar Village during the summer months.
Picnic areas are found at Rising Sun, Avalanche Creek, Sprague Creek, and Apgar.
5 out of 13 campgrounds in Glacier are located along the road: Apgar, Sprague Creek, Avalanche, Rising Sun, and St. Mary. Please see our Camping page for more information.
There are three visitor centers located the road, at Apgar, Logan Pass, and St. Mary. All have restroom facilities, trip planning information, bookstores, drinking water, and exhibits.
Viewing Opportunities
Glacier National Park is wild country, and wildlife may be present anywhere along the road. Mountain goats and bighorn sheep are consistently seen near Logan Pass. Grizzly bears are often seen near Two Dog Flats on the east side.

Jackson Glacier Overlook affords the best opportunity to see a glacier from the road. It is located on the east side of Going-to-the-Sun Road between Logan Pass and St. Mary.
Travel Alternatives
There are transportation options if you prefer to leave the driving to someone else. Visit the Getting Around page for more information.
There are also incredibly scenic sections of the park not found along Going-to-the-Sun Road. Check out the Places to Go page for information on all entrances and districts.
Last updated: April 21, 2023