Bicycling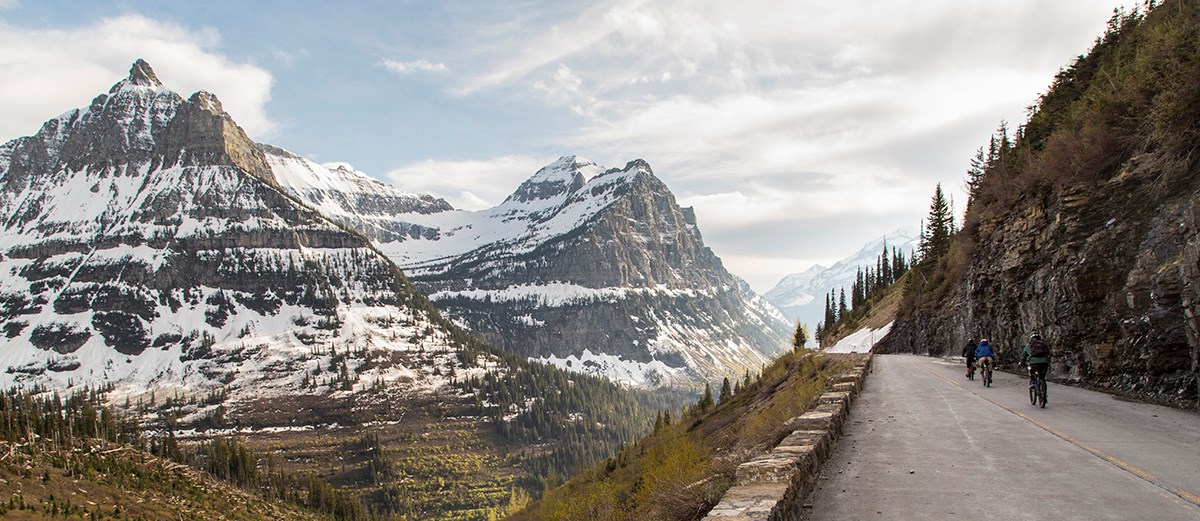 Bicycling in Glacier means sharing the roads with both recreational and passenger vehicles of all size. Special precautions need to be taken by all visitors to ensure that everyone has a safe and enjoyable time. Vehicles need to allow a 3 ft (1 m) distance between their vehicle and bicyclists.
Regulations
Cyclists must observe all traffic regulations.

Keep well to the right side of the road and ride in single file only.

Pull off the road if four or more vehicles stack up behind you.

During periods of low visibility or between sunset and sunrise, a white light or reflector visible from a distance of at least 500 feet (152 m) in front and a red light or reflector visible from at least 200 feet (61 m) to the rear must be exhibited on the operator or bicycle.

Information on the use of e-bikes in National Parks may be found here.
Stay Safe
Be visible!

Wearing a helmet and carrying bear spray are strongly advised.

Attach a bright flag on a pole and wear light-colored clothing.

Watch for falling rocks, drainage grates, and ice on road.
Hiker/Biker Campsites
A limited number of sites at Apgar, Fish Creek, Sprague Creek, Avalanche, Many Glacier, Rising Sun, Two Medicine, and St. Mary are available for bicyclists and hikers. Sites are shared with a capacity of up to 8 people; larger groups must split up or use group sites where available. The fee is $5.00 per person per night for Apgar, Sprague Creek, Avalanche, Many Glacier, Two Medicine and Rising Sun. In the reservation campgrounds, St. Mary and Fish Creek, the fee is $8.00 for the first person and $5.00 for every individual beyond the first. If hiker/biker sites are full or campers do not want to share a site, hikers/bicyclists must use regular unoccupied campsites. Read more about campgrounds on the Camping page.
Hiker/biker sites are not available to motorcyclists. They must use regular unoccupied campsites.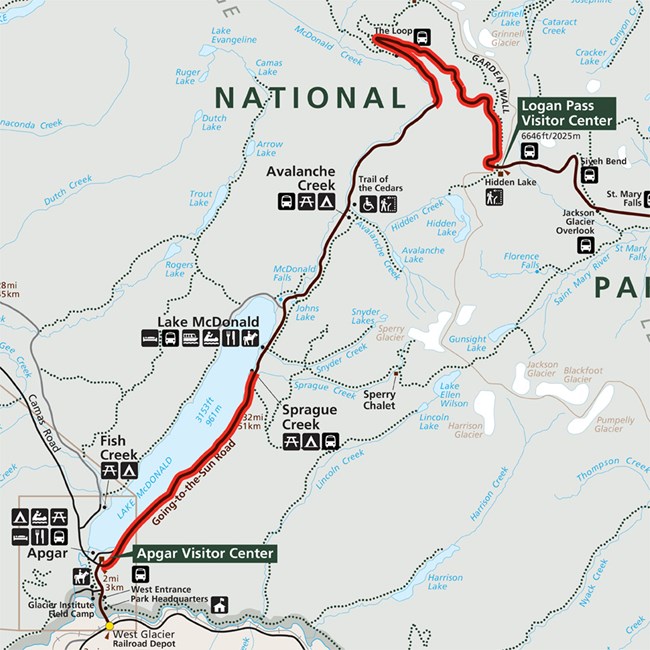 Summer Restrictions
For safety and to ease congestion, restrictions are in effect on sections of the Going-to-the-Sun Road, from June 15 through Labor Day:
From Apgar Campground to Sprague Creek Campground bicycles are prohibited, both directions, between 11 am and 4 pm.

From Logan Creek to Logan Pass east-bound (uphill) bicycle traffic is prohibited between 11 am and 4 pm.

Start early! It takes about 45 minutes to ride from Sprague Creek to Logan Creek and about three hours from Logan Creek to Logan Pass.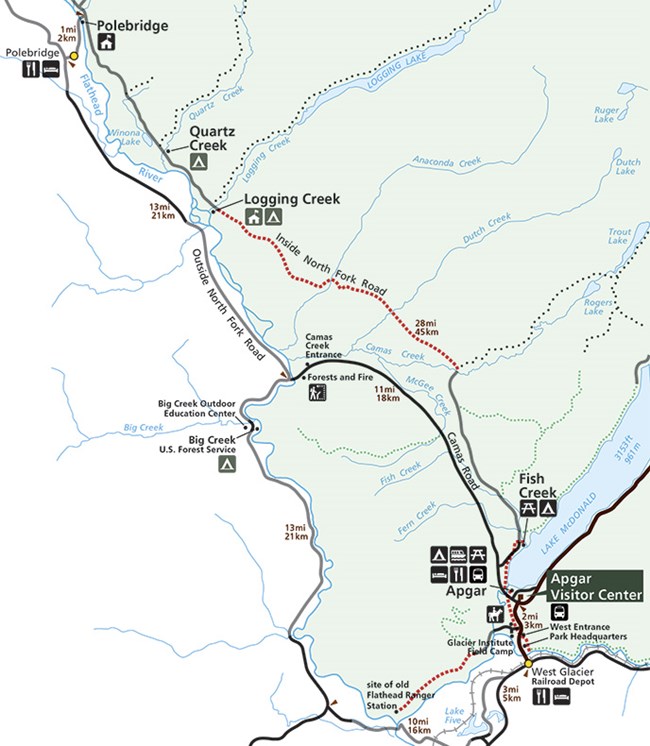 Are There Bike Trails?
Bicycles are permitted on all of the roads in the park but are not permitted on trails, with three exceptions:
The paved path from Park Headquarters to Apgar Village,

The Fish Creek Bike Path from Apgar Village to Fish Creek Campground and,

The old Flathead Ranger Station trail.
Additionally, the Inside North Fork Road is temporarily closed to vehicles between Camas Creek and Logging Creek and makes an excellent, although unpaved, route for exploring the park by bicycle.
Spring Hiker-Biker Season
In 2020 the final finish work will be ongoing along sections of the Going-to-the-Sun Road. Mainenance and work vehicles will be traveling along the section of the road between Avalanche Creek and the work sites. Hikers and bikers should be aware that, although the road is closed to public vehicle access, there will be construction vehicles using this route.

Every spring, before the Going-to-the-Sun Road is fully opened to cars, hikers and bikers have the opportunity to enjoy a more relaxed pace on this National Historic Landmark. As the plowing crews make their way up to Logan Pass the plowed sections behind them are available for a car-free experience. Crews will mark the closure of the hiker-biker section of the road with a sign. Visitors will not be permitted beyond this point while the crews are plowing. After work hours or on days the crews are not plowing feel free to go as far as you like.

Visitors will find the vehicle gates at either Lake McDonald Lodge or Avalanche Creek, on the west side of the park. On the east side of the park the gate is usually at Rising Sun but may be moved further up the road as conditions allow.

For updated status on where the hiker-biker closure is today visit our Road Status Page. It is updated Monday through Friday with the most recent conditions. Crews do not work on the weekend so there are no hiker-biker closures on Saturday or Sunday.

During this time of year pets are not permitted past the vehicle gates. Bring bear spray, water, and food and plan your day the same as you would if hiking a trail. Be on the lookout for wildlife and be aware that bicyclists and hikers are using the same roadway. Avalanche conditions exist throughout the park and along the roadway. Be aware of conditions prior to starting your trip and avoid known avalanche paths.

Spring Shuttle
Beginning mid-May, and running on weekends until the road is fully open to vehicles, a shuttle service will operate between the Apgar Visitor Center and Avalanche Creek, with a stop at Lake McDonald Lodge. Shuttles will operate between 9:00 am and 5:00 pm and are equipped with a bike trailer to transport bicycles.
Visit our keyboard shortcuts docs for details
Duration:

1 minute, 52 seconds
This video highlights the spring biking season in Glacier National Park. It shows what to bring and how to enjoy this early season in the park. There is no narration.
The Audio Described Version of this video

Duration:

1 minute, 54 seconds
Last updated: January 16, 2020