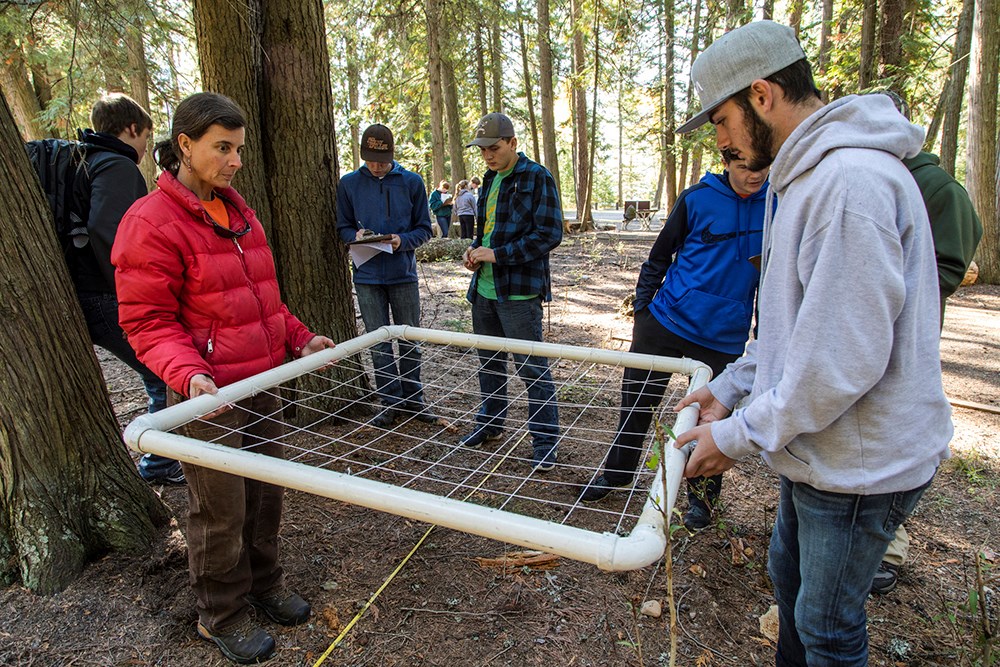 Students will become "Citizen Scientists" and hike less than 2 miles to permanently established research plots to collect data on the percent cover of native and non-native, invasive plants. Students will return to school and add their data to the information from previous visits of other schools. They will analyze and look for patterns as the database builds each year.
Glacier is at the core of the "Crown of the Continent" ecosystem, one of the most ecologically intact areas remaining in the temperate regions of the world. The establishment of Glacier National Park, along with its geographic location, has enabled its ecological processes and biological diversity to survive relatively intact in a rapidly changing and encroaching world. Glacier is one of the few places in the contiguous 48 states that continue to support natural populations of all indigenous carnivores and most of their prey. Glacier provides an outstanding opportunity for ecological management and research in one of the largest areas where natural processes predominate. As a result, the park has been designated a Biosphere Reserve, and Waterton-Glacier International Peace Park has been designated as a World Heritage site.
Grades: 6–12
Location: Meet in Apgar
Duration: 4 hours, view our Plant Invaders Field Trip Schedule to see a basic outline for the day
Group Size: 45-60 total, 2 groups of 20 -30 students
Skills: Observe, communicate, identify, classify, record
Vocabulary: Citizen science, noxious weeds
Essential Questions:
How is Glacier National Park the same or different from other areas with invasive plants?
What are the different ways that introduced species affect our environment?

Should we manage our landscape to remove invasive species?

How can the park engage citizens to assist with preserving native plant habitat?
National and State Standards:
Montana State Standards
MT.SCI.K-12.1 Students, through the inquiry process, demonstrate the ability to design, conduct, evaluate, and communicate results and reasonable conclusions of scientific investigations.

A proficient student will be able to identify a question, determine relevant variables and a control, formulate a testable hypothesis, plan and predict the outcome of an investigation, safely conduct scientific investigation, and compare and analyze data.

MT.SCI.K-12.3.2 Students, through the inquiry process, demonstrate knowledge of characteristics, structures and function of living things, the process and diversity of life, and how living organisms interact with each other and their environment.

A proficient student will be able to explain how organisms and systems of organisms obtain and use energy resources to maintain stable conditions (e.g., food webs, photosynthesis, respiration).
Next Generation Science Standards
MS-LS1-6 Construct a scientific explanation based on evidence for the role of photosynthesis in the cycling of matter and flow of energy into and out of organisms.