Plant Invaders Trunk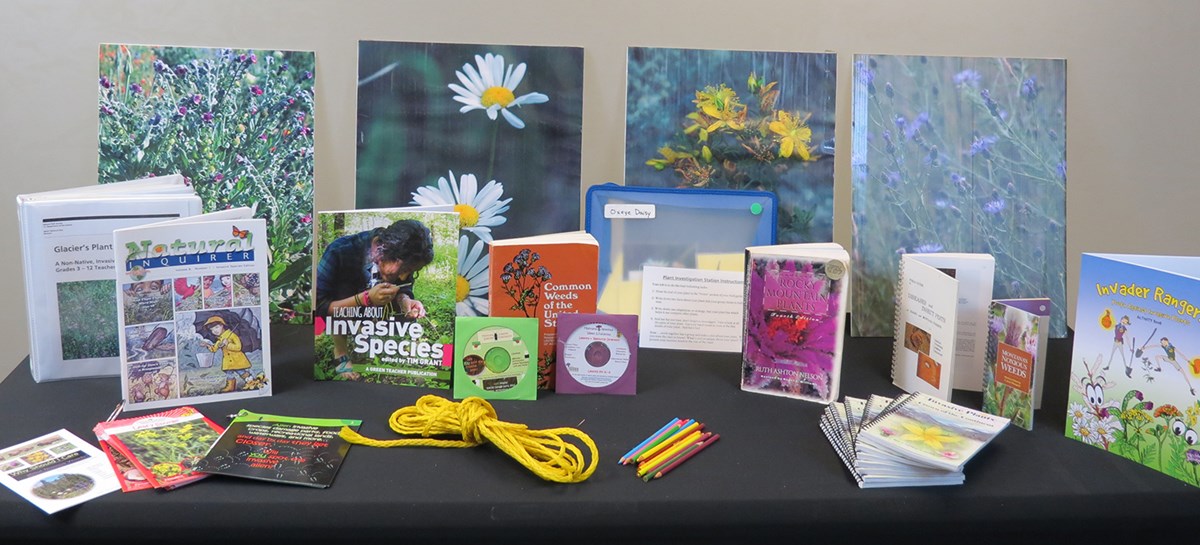 Whether it is seeing knapweed replacing native wildflowers in your favorite family camping spot, struggling to keep leafy spurge from taking over livestock range, or keeping thistles out of crop lands, invasive plants impact Montanans.
kNOweeds, K-12 MT Invasive Plant Curriculum Guide
Plant Invaders Trunk contains resources to help students learn about ecological and economic impacts of invasive weeds. Scientific plot surveys, investigations, and other activities teach students about noxious weeds in MT. These lessons are best suited for grades 3-5 but can be easily adapted for students in other grades.
Grades
Grades 3-5, but easily adapted to other levels
Contents
The Plant Invaders trunk contains resources necessary to complete a unit focusing on noxious weed and their impacts on native plant communities and on the people who live and recreate in Montana.
Lesson Plans
These curriculum-based lesson plans are designed for students in grades 3-5 and meets the requirements of the MT State Education Standards for science. However, it can be adapted easily for students in other grades and includes lessons and activities for math and English and language arts as well. To find more lesson plans appropriate for students grades K-12, visit the Missoula County Weed District website.
Books
Montana's Noxious Weeds. Pokorny, M. and Mangold, J. 2010.
Invasive Plants of the Crown of the Continent. Belt, J. LaFleur, D. and Sladek, M. 2009.
Other Resources
Noxious weed fact cards
Posters of invasive weeds
Sample specimens of Glacier's invasive weeds
Clues for "Who's Who?" activity
Instructions for "Great Race for Survival" activity
Hand lenses
Borrowing Instructions
All of Glacier's traveling trunks are free of charge and can be borrowed for 2-4 weeks at a time, but must be picked-up and dropped-off in person. (Sorry, it is not possible to mail the trunks.) To arrange to borrow a trunk please submit a reservation form found on the main Traveling Trunks page.
Last updated: November 6, 2017