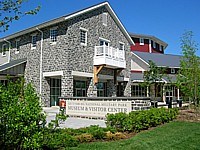 NATIONAL PARK SERVICE MUSEUM AND VISITOR CENTER
The National Park Service Museum and Visitor Center is the place to begin your visit to Gettysburg National Military Park. Here visitors will find information on how to visit the park and what to see around Gettysburg. The Gettysburg Museum of the Civil War, with 22,000 square feet of exhibit space, features relics of the Battle of Gettysburg and personalities who served in the Civil War, inter-active exhibits, and multi-media presentations that cover the conflict from beginning to end as well as describe the Battle of Gettysburg and its terrible aftermath. The center also hosts the film, "A New Birth of Freedom", narrated by award winning actor Morgan Freeman and the restored Gettysburg Cyclorama, which depicts the final fury of Gettysburg- "Pickett's Charge".
For visitors interested in looking for additional resources on individuals who served in the war or further information on our exhibits, the Resource Room at the end of the museum galleries offers a bank of computers to use for further research and to help answer questions about the soldiers who served at Gettysburg and elsewhere. The Museum Bookstore is filled with books and other items related to Gettysburg and the Refreshment Saloon offers drinks and sandwiches in the atmosphere of a Civil War Soldier's Rest.
The Museum and Visitor Center is located at 1195 Baltimore Pike (Rt. 97), Gettysburg, Pennsylvania. Open daily throughout the year, the building is closed on Thanksgiving Day, Christmas Day, and New Years Day. The center is owned and operated by the Gettysburg Foundation. For additional information on the Foundation and the work this organization is undertaking at Gettysburg, visit their web site at www.gettysburgfoundation.org.
Location: 1195 Baltimore Pike (Rt. 97), Gettysburg, Pennsylvania, USA
GPS coordinates- 77.22 degrees West, 39.81 degrees North.
Yearly Visitor Center Hours
9 am to 5 pm - November 1 to March 31.
8 am to 6 pm - April 1 to October 31.