Ranger Programs at Gettysburg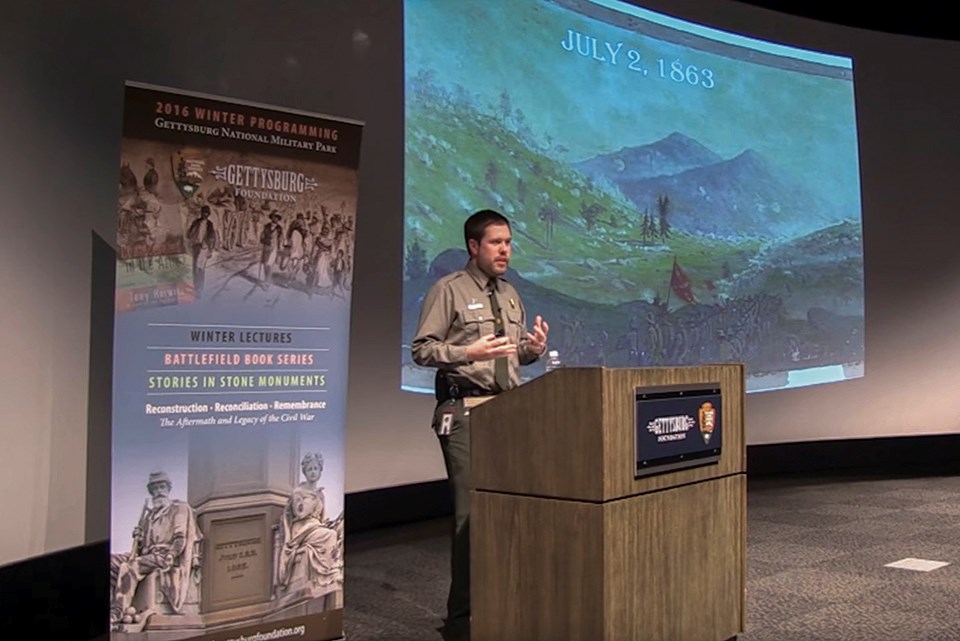 Winter Lecture Series
January 6 - March 18, 2018
Turning Points: Pivotal Moments and People of the Civil War Era
Saturdays and Sundays at 1:30 pm in the Gettysburg National Military Park Museum and Visitor Center theater. Note: the final four programs of the season will be held in the Museum and Visitor Center Ford Education Center.

In order to provide the best virtual experience possible, we will be recording these lectures and making them available on our YouTube channel at a later date.

Limited seating is available on a first come – first serve basis. Schedule is subject to change. These programs are free of charge.

February 4 lecture has been rescheduled for March 18.
Date
Topic
Presenter
Jan. 6
After Gettysburg: The Army of Northern Virginia Tries to Regroup.
Matt Atkinson
Jan. 7
The Battle of Shiloh: Conquer or Perish.
Daniel Vermilya
Jan. 13
Capt. Johnston's Sunrise Reconnaissance: How Lee and Longstreet Lost the War on July 2, 1863.
Troy Harman
Jan. 14
USS Monitor: The Ship That Launched a Modern Navy.
Karlton Smith
Jan. 20
The Unfinished Work: The World Wars at Gettysburg.
cancelled - no make up
Jared Frederick, Penn State University at Altoona
Jan. 21
If These Things Could Talk: Artifacts in the Collection of Gettysburg National Military Park.
cancelled - no make up
Tom Holbrook
Jan. 27
Breaking the Final Bond: The Presbyterian Church and the Coming of the Civil War.
Zach Siggins
Jan. 28
"A Great Weight at My Heart": The Army of the Potomac after Gettysburg.
Christopher Gwinn
Feb. 3
God Has Granted Us a Happy New Year!" – An Unappreciated Turning Point of 1862: The Battle of Stones River.
Bert Barnett
Feb. 10
Early at the Gates: The Battle of Fort Stevens.
Steve Phan,
Civil War Defenses of Washington
Feb. 11
"before the fearful and dangerous leap is taken:" The Fateful Compromise of 1850.
John Hoptak
Feb. 17
The Lincoln - Douglas Debates.
Daniel Vermilya
Feb. 18
Gettysburg & Vicksburg: "The Confederacy totters to its destruction."
Karlton Smith and Matt Atkinson
Feb. 24
"The movement was south." General Grant and the Overland Campaign.
John Heiser
Feb. 25
"God Knows My Conscience Is Clear": Constructing George Gordon Meade's Legacy.
Dr. Jennifer Murray,
The University of Virginia's College at Wise
March 3
After Gettysburg: Religion, Lee's Army, and Southern Culture.
* Program held in Ford Education Center
Troy Harman
March 4
Mark Mahosky: 30 Years of Drawing the Gettysburg Battlefield.
* Program held in Ford Education Center
Mark Mahosky
Gettysburg NMP Artist in Residence
March 10
Personal Turning Points – Jefferson Davis and George Thomas.
* Program held in Ford Education Center
Bert Barnett
March 18
Cogs in a Different Wheel: Non-combatant Life During the American Civil War.
* Program held in Ford Education Center
Angie Atkinson
Winter Reading Adventures
January 6 - March 17, 2018
With Liberty and Justice For All: Stories of Great Americans
Saturdays from 11 am - 12 pm at Gettysburg National Military Park Museum and Visitor Center. For kids who love to read, parents who want their kids to love to read, and for budding history buffs everywhere! Join a park educator who will read aloud from a different children's book, and then facilitate a related indoor activity. This program is free of charge.

For weekly updates on our featured books and activities, follow us on our Gettysburg National Military Park for Teachers, Students, and Families Facebook page.
Date
Book
January 6

I Am Sacagawea

by Brad Meltzer

January 13

Happy Birthday, Martin Luther King Jr.

by Jean Marzollo

January 27

Elizabeth Leads the Way

by Tanya Lee Stone

February 3

Frederick Douglass: The Lion Who Wrote History

by Walter Dean Myers

February 10

Abe Lincoln's Hat

by Martha Brenner

February 17

Take a Hike, Teddy Roosevelt!

by Frank Murphy

February 24

Harvesting Hope: The Story of Cesar Chavez

by Kathleen Krull

March 3

The Youngest Marcher

by Cynthia Levinson

March 10

Of Thee I Sing

by Barack Obama

March 17

John, Paul, Geiorge & Ben

by Lane Smith
Spring Ranger Program Schedule
April 7 - May 13
Free ranger-led hikes, walks, and talks that explore key moments and locations on the Gettysburg battlefield. All programs are free.
Program
Time(s)
Length
Location
Days
Cemetery Ridge Hike:
Crisis at the Union Center
10:30 am
90 min.
Ranger Site 1
at Museum
& Visitor Center
Fri/Sat/Sun
Four Score and Seven Years Ago:
Lincoln and the Soldiers' National Cemetery
11 am &
2 pm
45 min.
National Cemetery - Taneytown Rd. Gate
Daily
Hold to the Last!
The Battle for Little Round Top
3 pm
60 min.
Warren Statue -
Little Round Top
Auto Tour Stop 8
Tues/Thurs/Sat
The 3rd Day and Beyond:
Stay and Fight it Out!
3 pm
45 min.
National Cemetery
Parking Lot
Auto Tour Stop 16
Mon/Wed/Fri
Living History Programs
and Demonstrations - see Living History page for more details
Multiple Locations Throughout the Park
Sat/Sun
Program
Time(s)
Length
Location
Days
Cemetery Ridge Hike:
Crisis at the Union Center
10:30 am
90 min.
Ranger Site 1
at Museum
& Visitor Center
Fri/Sat/Sun
Four Score and Seven Years Ago:
Lincoln and the Soldiers' National Cemetery
11 am &
2 pm
45 min.
National Cemetery - Taneytown Rd. Gate
Daily
Hardtack, Mud, and Marching:
The Life of the Civil War Soldier
2 pm
45 min.
Ranger Site 1
at Museum
& Visitor Center
Fri/Sat/Sun
Hold to the Last!
The Battle for Little Round Top
3 pm
60 min.
Warren Statue -
Little Round Top
Auto Tour Stop 8
Tues/Thurs/Sat
The 3rd Day and Beyond:
Stay and Fight it Out!
3 pm
45 min.
National Cemetery
Parking Lot
Auto Tour Stop 16
Mon/Wed/Fri/Sun
Living History Programs
and Demonstrations - see Living History page for more details
Multiple Locations Throughout the Park
Sat/Sun
Last updated: March 5, 2018