Dr. Bob Cromwell to Serve as Site Manager at Pearson Air Museum
Date:
July 23, 2014
Contact:
Tracy Fortmann, Superintendent
, 360-816-6205
Contact:
Greg Shine, Chief Ranger & Historian
, 360-816-6231
VANCOUVER, WA -- The National Park Service is pleased to announce that Fort Vancouver National Historic Site Archaeologist, Robert J. Cromwell, Ph.D., has accepted a detail as the Site Manager for the Pearson Air Museum and the Jack Murdock Aviation Center.
In this capacity, through an initial appointment of two years, Bob will manage operations, planning, and programming at the air museum complex, a unit of the National Park System, and will report directly to Tracy Fortmann, superintendent of Fort Vancouver National Historic Site. He will also work closely with other park staff, including Eva Dodd, the park's special events coordinator stationed at the air museum, to continue and expand opportunities for special events and permitted uses at Pearson Air Museum (including the Historic Hangar and Tex Rankin Theater) and throughout the national park.
Bob is best known as a professional archaeologist and cultural resources manager, but he also has a past working in aviation, and an appreciation for all forms of historic transportation, including aviation history.
The son of a Navy veteran, Bob dreamed in high school of becoming a Naval aviator, and was a finalist for the Naval Academy, before being rejected when he discovered that he was colorblind during the physical exam portion of the application process. To help work his way through Oregon State University, Bob was employed by Reliant Aviation at Oregon's Albany Airport.
"I have always had a passion for aviation history, and as a child my room was filled with model airplanes, and my library shelves filled with aviation themed titles," said Cromwell. "In high school I subscribed to a British magazine, 'FlyPast,' and read them cover to cover, learning about aircraft restoration projects throughout the world. My favorite section was entitled 'Aero Archaeology' and I remember being enamored with the notion of my family moving to Great Britain so I could be closer to archaeological recovery excavations of Battle of Britain crash sites," he added.
Although planning on becoming an aircraft mechanic, the allure of historical and archaeological research made him choose a different career path. This detail will provide Bob with the opportunity to blend his personal and professional passions, and to help develop new aviation-oriented exhibitry and programs that celebrate the history of Pearson Air Field.
"Bob has an established rapport with staff at other air museums, and a network of peers throughout the national park system who work at aviation sites, including Tuskegee Airmen National Historic Site, Crissy Field at Golden Gate National Recreation Area, Wright Brothers National Memorial, and Dayton Aviation Heritage National Historical Park," said Superintendent Tracy Fortmann. "In addition, he has experience in museum object conservation, a skill which will undoubtedly be utilized in his new position. Further, Bob is building relationships with National Park Service and other federal agencies who view aviation as a key aspect of their operations."
"The National Park Service has a long history of aviation heritage and utilizing aircraft in its management of over 400 national parks located in 49 of the 50 states," said Shad Sitz, the National Park Service Pacific West Regional Aviation Manager. "It is wonderful to see the NPS directly managing this important aviation related site and museum. The NPS has had an active aviation program since the early twentieth century, and we use aviation resources to safely conduct Search and Rescue operations, resource management, and fire suppression activities across the nation nearly every day." 
"Frankly, I'm thrilled about Bob serving as the Site Manager for the Pearson Air Museum and Jack Murdock Aviation Center," said Fortmann. "He is highly motivated, hardworking, and incredibly bright.Bob's mixture of experience as a cultural resources manager and archaeologist, combined with his love of historic aviation and approachable personality, makes him the perfect candidate to lead efforts at Pearson Air Museum."
-NPS-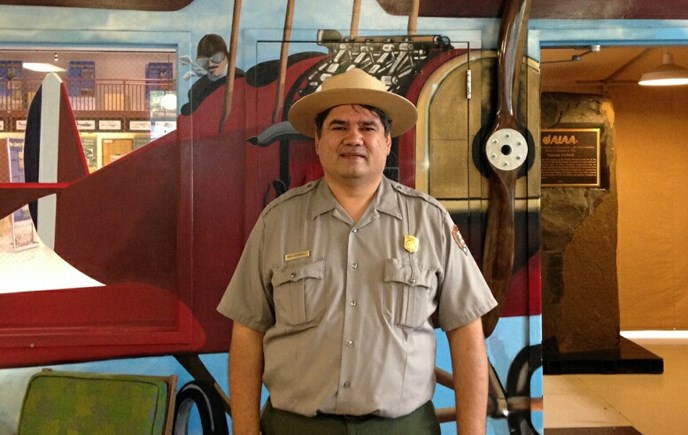 Last updated: February 28, 2015