The Tex Rankin Theater at Pearson Air Museum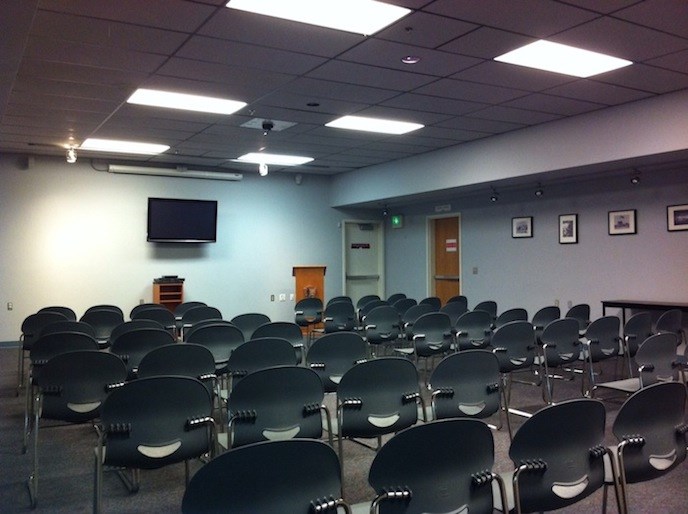 Venue Information
The Tex Rankin Theater is located in the main hangar at Pearson Air Museum. This venue provides an excellent location for meetings, trainings, presentations, and more.
Address: 1115 E 5th Street, Vancouver WA 98661.
Capacity: Maximum of 80 people theater-style, or 40-45 people classroom seating
Adjoining Room: Increase capacity via an accordion partition wall for an additional 35 people theater-style, a larger classroom, or a break-out room.
Accessibility: Wheelchair and stroller accessible. Accessible restrooms are available in the main Hangar of the Pearson Air Museum.
Equipment: Chairs, video screen, overhead projector, surround sound, widescreen HDTV, and 12 96"x18" tables are available for classroom/seminar style event.
Parking: 42 parking spaces available for use in the main parking area or on-street parking on 5th Street. The first section of parking spaces are reserved for the public during Museum regular operational hours.
WIFI: Password provided upon request.
Management Cost
$50 per hour, not including the application fee during regular hours of operation.

Management cost for use of facilities and equipment may apply.
General Guidelines
The Permit does not grant access to Pearson Air Museum. For increased privacy, it is recommended that you schedule your event early or after hours.

A permit may not be issued if the event unreasonably interferes with interpretive services, visitor services, or other program activities or causes damage to the park resource.

Additional costs will be incurred for events requiring additional staff monitoring from setup to breakdown & cleanup of the activity.

Free-standing directional signs related to the event are permitted and must be removed immediately after the event. Affixing directional signage to government property is prohibited. Permittee is required to coordinate with park staff on the placement and type of signage.

The sale of all merchandise --including but not limited to T-shirts, clothing, and arts and crafts--and vending of food/beverages on park land is prohibited at this venue.

Alcohol may be consumed on-site, but may not be sold. Request must included in application and Washington State Liquor Law must be observed.

Prior to and immediately following the event, National Park Service, and permittee representatives will complete a Facility and Equipment Checklist indicating the condition of the Tex Rankin Theater.

Trash must be removed from the park within the permitted time period. The permittee will be billed for cleanup or damage repair.

Additional documents may be required including a Certificate of Liability, a performance bond, and/or a permit from the City of Vancouver. The National Park Service staff member facilitating your request will discuss these with you as necessary, depending on the size, scope, and type of activity being proposed.
Any management cost incurred by the park through expanding park hours of operation, monitoring, support, or clean up at the rate of $50 per hour. Cost may be incurred for any resoration to resouses that are not recoverable through insurance.
How to Reserve
Submit a Permit Inquiry Form tor date and time availability.
You will be contac by the Special Park Uses Depart via emai. A permit application form will be attached the venue you are interested in is available.
Application Fee
A $100 application processing fee is due with the application. This fee is non-refundable and must be paid by credit or debit card. Personal checks are not accepted; only Cashiers checks or Money Orders made payable to National Park Service. Payment of the Application Fee does not guarantee that the National Park Service will issue a permit. Complex applications and proposed activities may require more extensive review; in these cases, additional permit fees may apply.
Last updated: January 11, 2018