Post Sutler-Hiero T. Wilson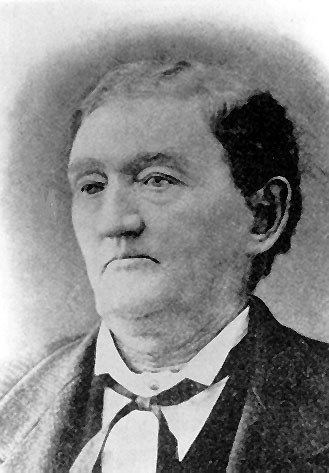 Fort Scott's first sutler was John A. Bugg. The Secretary of War appointed him in 1842. Hiero T. Wilson became his partner in September of 1843, after assisting his brother at Fort Gibson from 1834-1843. In 1848, Bugg sold his interest to Wilson and headed to the gold fields. Mr. Wilson then became the sutler and the U.S. Postmaster.
Hiero T. Wilson was born in Kentucky on September 6, 1806. He went to Fort Gibson as sutler of that post soon after it was established, and remained there about nine years, when he came to Fort Scott, as stated in 1843. He lived here continuously from that time until his death on August 6th, 1892. He was married to Elizabeth C. Hogan, on September 28, 1847. They had three children, Virginia T., Elizabeth C., and Fannie W. Virginia, the eldest daughter who became Mrs. W. R. Robinson was possibly the first white child born in Fort Scott.
During Wilson's residence in Fort Scott for nearly fifty years, he filled a prominent place in the political, social, and commercial history of this part of the country. He saw the fort and the wild and almost unknown surrounding country, with few bona fide white inhabitants in the Indian Territory, pass through all the panoramic changes from extreme frontier life to that of high civilization.
After Kansas Territory was organized, Wilson occupied many political positions, and although he was not active in politics, he always consulted, and had great influence in the councils of his party. He was originally a Whig, and had great admiration for Clay and Webster, but after their day he associated himself with the Democratic party, and during the Civil War was a strong Union Democrat. During the 1860s he was very active in promoting the organization of the various railway companies forming to build roads into Southern Kansas, and active in his efforts to secure their construction to Fort Scott. He was also actively engaged in large mercantile affairs until 1868, when he quit business. His life work was done. He lived the rest of his life in Fort Scott.
Information on this page came from History of Bourbon County by T.S. Robley.
Last updated: July 29, 2016