Post Sutler-Overview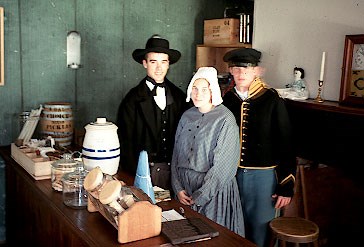 In twenty-first century America, those of us who live even in small towns often don't appreciate the convenience of the corner grocery store or the Wal-Mart Supercenter. At Fort Scott in the 1840s, the post sutler filled that role for the soldiers and civilians in the area. He provided goods that could not easily be obtained otherwise. He also served as the postmaster, barkeeper and news vendor. He traded not only with the military, but also with civilians and Indian tribes. By bringing these groups together in trade, he became an agent of civilization on the frontier.
Since there will be at least two students presenting this station, one should portray the post sutler; the other could be his wife or one of his customers, a soldier for example.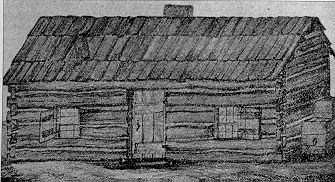 The present sutler exhibit at Fort Scott is located in an officer's quarters building that dates back to the 1840s. That is where the station will be presented.
However, the original store was located off the post, about 300 yards west of the dragoon stables. It is believed that this drawing depicts the original sutler store at Fort Scott: a log cabin with two rooms and 1 1/2 stories high. The store has been torn down but a plaque marks its location.
Last updated: July 26, 2016