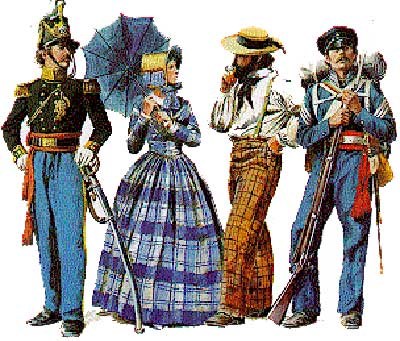 One of the hallmarks of a good business is good customer service. Merchants know that in order to succeed they need to know their customers and carry items that appeal to them. At Fort Scott in the 1840s, the sutler had a diverse group of customers: some who wore brass, some who wore felt, and some who wore feathers. The sutler carried goods that appealed to all of these groups. And by virtue of trading with these various clients, he would have had an interest in keeping them at peace with each other, which made him a diplomat, of sorts, as well as a store keeper.
The sutler's main customers were the men and women at the fort. This included the officers and their wives, laundresses (who traded soap and lard for various items) and other NCO wives, the surgeon, and even the Army itself made purchases at the sutler store. However, the majority of the sutler's customers were the enlisted men.
The sutler carried several items that appealed to the rank and file. Jawharps-a popular musical instrument, playing cards, sewing kits, combs, razors, and toothbrushes. The sutler also sold edibles such as apples and pickles as well as things like chewing tobacco (which came in twists) and cigars. The sutler could sell beer and wine to the enlisted men, but the army prohibited him from offering them anything stronger.
Often the enlisted men did not actually have the money to pay for their purchases. Therefore, the sutler could and did extend credit. However, there was a credit limit-the soldier could not exceed half of his monthly income. For the infantry private, that limit would be three dollars and fifty cents a month, and for the dragoon private it would be four dollars. This protected both the soldier and the sutler. For the sutler, it meant that if a soldier deserted prior to paying his bill, he would not be out a great deal of money. For the soldier, it assured that he had some money left over each month after all of his debts were collected from him.