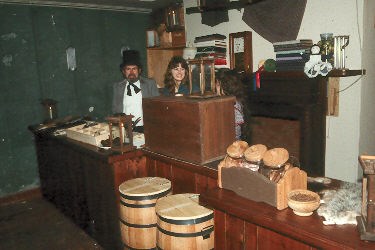 The sutler at Fort Scott played an important and varied role in the fort's society. He essentially ran a general store which provided a wide and diverse selection of goods. It also served as a bar, an entertainment center, the post office, and a news stand.
As with the department stores and supermarkets of today, the sutler strove to stock a wide variety of good to appeal to his diverse clientelle. Sutlers carried (among other things) bolts of cloth, blankets, ready made clothes, footgear, food, spices, writing equipment, china dishes, musical instruments, miscellaneous household furnishings, tools, general hardware, and an assortment of personal items (razors, soap, pipes, fish hooks, etc.). This represented quite an impressive display.
And so, troops had their tobacco, laundresses their needles and thread, while the wealthier families of officers could live in a manner befitting their station in life. Even the Army was a regular customer of the sutler's. The post quartermaster and surgeon would purchase small necessities such as vegetable seeds, tableware, cups, crocks, and other items that the army could not supply in a timely manner. Indians and fur traders were also welcome to buy, but their purchases represented a very minor portion of the business transacted.