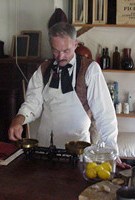 Title of Program: 1840s Supercenter: Fort Scott's Sutler Store
Type of Program: Education Program
Venue: Sutler Store Exhibit
Audience: Elementary Students
Tangible Resources: Merchandise, ledgers, employees, customers
Intangible Concepts:
Business Management - The sutler carried a wide variety of goods to cater to his diverse clientele. Goods carried ranged from jaw harps and harmonicas to pipe tobacco, cloth, and furs. The sutler made every effort to maintain a good supply of merchandise. Generally three different lines of merchandise were carried: officer, enlisted, and trade.
Finance and Bookkeeping - The sutler's prices were set by three officers who formed a Council of Administration. Other regulations governed the flow of credit. A sutler could extend credit, but only up to one half of a soldier's monthly salary. Careful records were kept to provide proof of a soldiers' debts. Come pay day, the sutler was third in line at the pay table to collect his debt.
Customer Relations - Both enlisted and officers frequented the store, but because the officers set his prices, the sutler was inclined to grant the officers special favors. Besides the military, the sutler did business with other clients, namely, farmers and American Indians. It was in his best interests to promote peaceful relations between these various groups.
Convenience - Similar to the Wal-Mart supercenters of today, most sutler stores functioned as more than just stores. Many sutler stores had bars and pool tables. (Beer and wine only for enlisted at Fort Scott). A sutler store also served as a newspaper stand and a post office.
Universal Concept:
Civilization - The sutler played an important role in the fort community. He made goods available that the army might not have access to otherwise. Through carrying news and the mail, he became an important link to the outside world. And by promoting peaceful relationships betwen his trading partners, he became an agent of civilization on the frontier.
Theme:
Through bringing a variety of goods and services to the frontier and by marketing to a wide variety of customers, the sutler became an agent of civiilization on the frontier.
Goals:
To tell about the various roles that the sutler played and the people that he served.
To show how the sutler ran his business.
Objectives: After participating in this program, the students will be able to:
Name five items that were sold in the sutler store.
List two other functions that the sutler performed besides that of being a merchant ( e.g. postmaster, source for news and other information).
Give one example of someone besides a soldier who would've traded at the store.
Name at least one army regulation that affected the sutler's operation (e.g. soldier's credit limited, Council of Administration sets prices, etc.).
Suggested Activities:
Have a few of the students wear the hats of the various customers that would have come to the sutler store and interact with them accordingly.
Allow the students some free time to touch the animal furs, smell the cloves and the cinnamon sticks, and handle some of the merchandise.