Ranger-led Cherry Blossom Programs
From March 18th to April 3rd, Park Rangers from the National Park Service lead guided hikes and family programs at the Cherry Blossom Festival. Learn about the Cherry Trees in a fun, family-friendly way. Choose our program list below or visit our Calendar of Events.
Cherry Blossom Talks
Daily
10:00 am, 11:00 am, 1:00 pm - 6:00 pm
Meet at the Thomas Jefferson Memorial Plaza
Memorials of the Reflecting Pool
Daily
10:00 am, 2:00 pm, and 6:00 pm
Meet at the Lincoln Memorial Plaza
Explore the Iconic Memorials on the National Mall at the most beautiful time of the year.
Memorials of the Tidal Basin
Daily
12:00 pm and 4:00 pm
Meet at the Martin Luther King, Jr. Memorial Plaza
Explore memorials and cherry blossoms on a guided tour
Junior Ranger Program
Complete the activity booklet to earn a Cherry Blossom Festival junior ranger badge. Junior Ranger Booklets are available at the National Park Service Tent in the Tidal Basin Welcome Area and at NPS information kiosks throughout the park.
Special Programs
Throughout the Cherry Blossom Festival, Rangers present special programs to experience the Cherry Blossom season in a new and unique way. Join us at any of the special dates and times below for a once in a lifetime experience.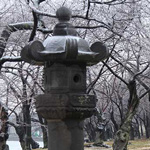 Lantern Walk
Fridays/Saturdays: 3/18, 3/19, 3/25, 3/26, 4/1, 4/2
8:00 pm to 10:00 pm
Meet at National Park Service Information Tent in the Tidal Basin Welcome Area.
Bring your flashlight for an evening stroll.