Hiking Trails
Our park's trails allow you to explore a diversity of habitats. It is essential to bring plenty of water and stay aware of changing weather conditions. If you hear thunder or see lightning, seek cover immediately.

Insects, including mosquitoes and a variety of biting flies, may be present year-round, and severe in the hot, humid summer months. Be prepared for insects, and often intense sun, with hats, long sleeves and pants, sunscreen and insect repellent.

A wide array of land trails offer visitors opportunities for leisurely walks, extended hikes and bicycle treks. Check out the links below to download hiking and bicycling brochures. Flamingo and Pine Island trails are accessible from the main entrance of the park in Homestead Florida, while the Shark Valley trail is closer to Miami off of U.S. 41.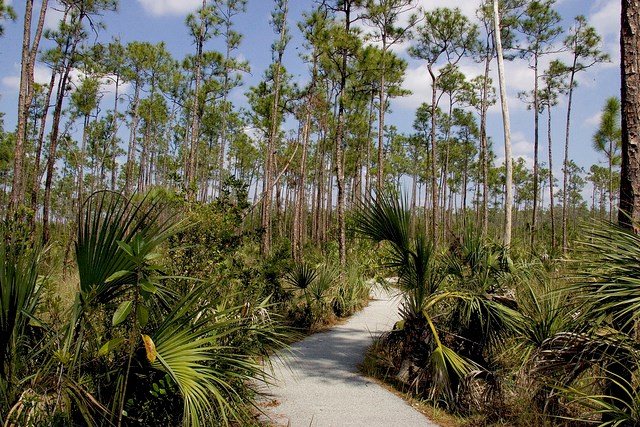 Popular Trails at Everglades National Park
Pine Island Trails
Flamingo Trails
Hells Bay Canoe Trail

Nine Mile Pond Canoe Trail
Shark Valley Trails
Gulf Coast Trails
Sandfly Island hiking trail: The hiking trail is 0.9 miles, visitors should allow 40 minutes to complete. The surface is bare ground and the trail is not wheelchair accessible. The trail is located on Sandfly Island, 1.5 miles from the Gulf Coast Visitor Center. Sandfly Island is only accessible by canoe/kayak or motorboat.
The following trails are passable, but not maintained, due to the presence of federally endangered species. Travel them at your own risk!
**Note** Pets are not allowed on any of the park's trails. To learn more about regulations on pets in the park, click here.

Last updated: February 1, 2023