Rowdy Bend Trail
Please note that the Rowdy Bend Trail is not currently being maintained because of potential damage to critical habitat in the area for the Cape Sable thoroughwort. This is a small herb in the sunflower family with bluish-purple flowers. Global distribution restricted to coastal ENP and a few sites in the Florida Keys.
Park staff are reviewing trail management techniques to develop strategies that won't affect this habitat so that we can reinstate trail management in the future. For now the trail remains open but you should be aware of terrain that should be traversed carefully and may have vegetation, branches, or other flora and fauna that could affect your hike.
Trail Length: 2.6 miles (4.2 km) one way
Wheelchair Accessible: No
Bicycles Allowed: Yes
Trail Description: Explore an overgrown road bed through shady buttonwoods and open coastal prairie. This is an opportunity for good woodland bird watching. Combine this trail with the main park road (use caution!) and the Snake Bight Trail for a 12.6 mile round-trip bike ride from the Flamingo Visitor Center.
Directions to Trail: Three miles (5 km) north of the Flamingo Visitor Center on the main park road.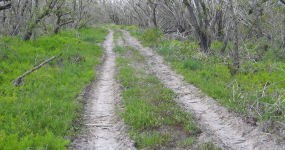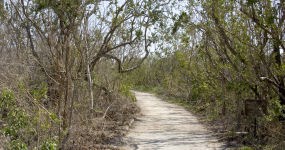 Last updated: January 16, 2022