Bayshore Loop Trail
******THE BAYSHORE LOOP TRAIL IS CLOSED UNTIL FURTHER NOTICE******




Please note that the Bayshore Loop Trail is not currently being maintained because of potential damage to critical habitat in the area for the Cape Sable thoroughwort. This is a small herb in the sunflower family with bluish-purple flowers. Global distribution restricted to coastal ENP and a few sites in the Florida Keys.
Park staff are reviewing trail management techniques to develop strategies that won't affect this habitat so that we can reinstate trail management in the future.

You should be aware of terrain that should be traversed carefully and may have vegetation, branches, or other flora and fauna that could affect your hike.
Trail Length: 2 miles (3.2 km) round trip
Wheelchair Accessible: No
Bicycles Allowed: No
Trail Description: Meander along the shore of Florida Bay, watching for remnants of an outpost fishing village. Observe the effects of hurricanes Katrina and Wilma on the landscape.
Directions to Trail: Begin at the Coastal Prairie Trailhead at the back of Loop "C" in the Flamingo Campground. Veer left at the trail junction to the bay.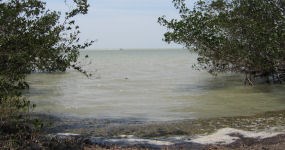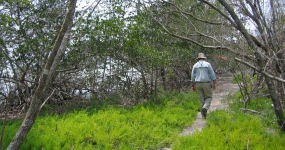 Last updated: December 2, 2022