Mahogany Hammock Trail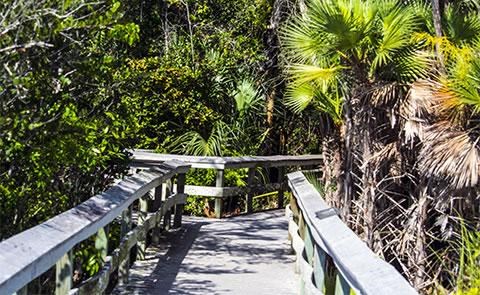 Trail Length: 0.5 miles (800 meters) round trip


Wheelchair Accessible: Yes

Bicycles Allowed: No

Trail Description: This self-guiding boardwalk trail meanders through a dense, jungle-like hardwook "hammock." Lush vegetation includes gumbo-limbo trees, air plants, and the largest living mahogany tree (Swietenia mahogani) in the United States.

Directions to Trail: Twenty miles (32 km) from the main park entrance/ Ernest Coe Visitor Center.
Select a Park:
Select a Species Category (optional):
Search results will be displayed here.

Visit NPSpecies for more comprehensive information and advanced search capability. Have a suggestion or comment on this list? Let us know.
Stargazing in the park
The remoteness of the parking lot makes Mahogany Hammock an excellent location to spot the Space Station. 


Last updated: October 12, 2016