Appalachian National Scenic Trail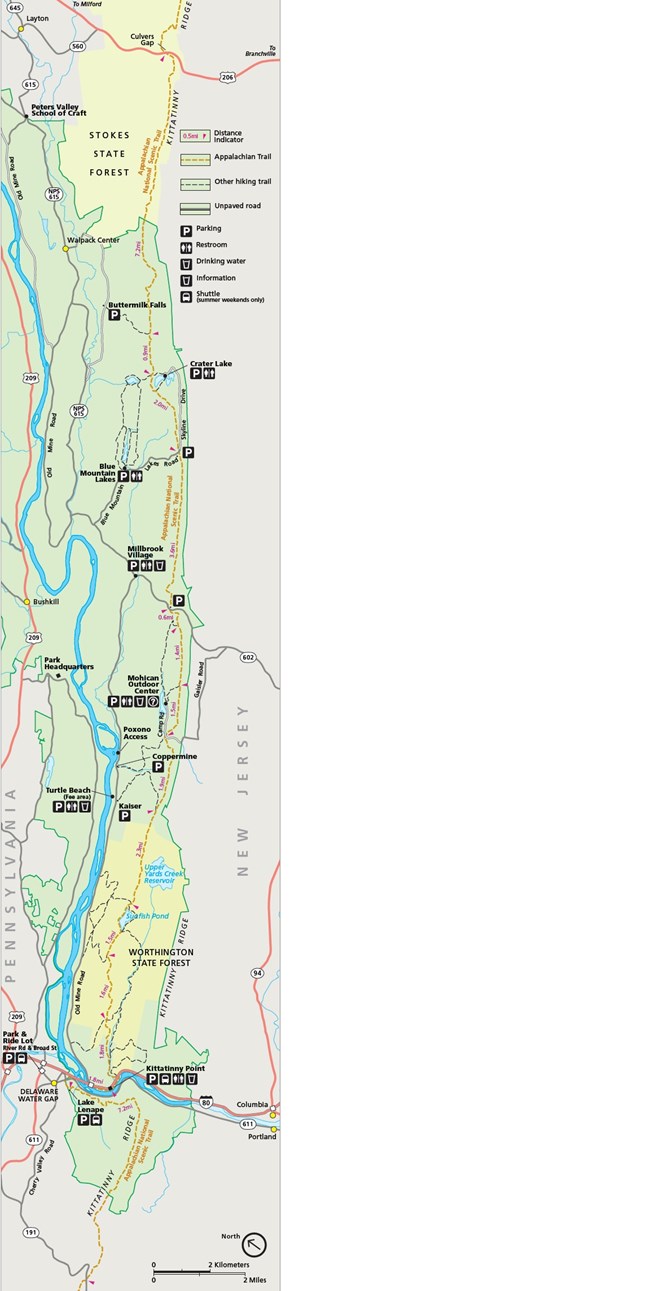 The Appalachian National Scenic Trail (AT) extends along the spine of the Appalachian Mountains from Springer Mountain, Georgia to Mt. Katahdin in Baxter State Park, Maine. Of the 2,174 miles of trail, 28 miles are within the Delaware Water Gap National Recreation Area. Whether hiking for a couple of hours, for the day, or for the entire length of the trail, the AT provides opportunities for majestic views, wildlife sightings, and hiking challenges.


Regulations for the Appalachian Trail within the Park


Hikers should carry sufficient water for the entire hike. Water along the trail may not be suitable for consumption. All water should be chemically treated or boiled for 5 minutes.
All human waste must be buried at least 6 inches deep and 100 feet or more from any stream, trail, unpaved road or park facility.
Carry out all trash.
Cutting, defacing or removing any natural feature is prohibited.
Pets must be on a 6-foot leash at all times.
Horseback riding, biking, and all types of motorized vehicles (except authorized vehicles) are prohibited on the trail within the recreation area.









Mileage along the AT within the Park


| | | | |
| --- | --- | --- | --- |
| From | To | Miles | Rating |
| Park Border (Totts Gap), PA | Mt. Minsi, PA | 2.4 | easy-moderate |
| Mt. Minsi, PA | Delaware Water Gap, PA | 1.8 | moderate |
| Delaware Water Gap, PA | Dunnfield Creek, NJ | 1.7 | easy-moderate |
| Dunnfield Creek, NJ | Holly Spring/Beulahland trails, NJ | 1.6 | moderate-difficult |
| Holly Spring/Beulahland trails, NJ | Douglas Trail, NJ | 1.6 | moderate-difficult |
| Douglas Trail, NJ | Garvey Springs Trail, NJ | 1.5 | moderate |
| Garvey Springs Trail, NJ | Kaiser Trail, NJ | 2.3 | moderate |
| Kaiser Trail, NJ | Camp Road (Mohican Outdoor Center), NJ | 2.0 | moderate |
| Camp Road (Mohican Outdoor Center), NJ | Rattlesnake Swamp Trail, NJ | 1.5 | moderate |
| Rattlesnake Swamp Trail (south), NJ | Rattlesnake Swamp Trail (north), NJ | 1.5 | easy-moderate |
| Rattlesnake Swamp Trail (north), NJ | County Road 602, NJ | 1.4 | easy-moderate |
| County Road 602, NJ | Blue Mountain Lake Road, NJ | 3.6 | moderate |
| Blue Mountain Lake Road, NJ | Crater Lake Trail, NJ | 1.5 | moderate |
| Crater Lake Trail, NJ | Crater Lake/Hemlock Pond Connector Trail, NJ | 0.5 | moderate-difficult |
| Crater Lake/Hemlock Pond Connector Trail, NJ | Buttermilk Falls Trail, NJ | 0.9 | easy-moderate |
| Buttermilk Falls Trail, NJ | Park Boundary, Blue Mountain, NJ | 3.1 | moderate |


Parking for the AT within the Park



Overnight along the AT within the Park



Trails that connect to the AT within the Park



More information about the AT:


Appalachian National Scenic Trail
Appalachian Trail Conservancy
---
Last updated: August 18, 2021